After 12 years as a celebrant, Judy Aulich doesn't tend to cry at weddings anymore.
But she surprised herself late last year when she burst into tears after announcing, for the first time, the government's new definition of marriage.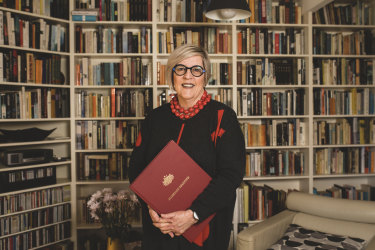 "The most special moment in my whole career of being a celebrant was the very first time I could say 'marriage is between two people," she says.
And the couple she was marrying weren't even of the same gender as each other, but a pair who each had a female attendant. It was the attendants who had been married, several years before under the new marriage laws in the United States. Just the day before, their marriage had finally been recognised in Australia.
"When I got to that bit, I said "marriage, as of yesterday, according to the laws of Australia, is the union of two people". They let out an almighty cheer. The crowd clapped and carried on, and I cried. I just cried, and I didn't expect to. It just crept up on me."
It's not surprising that same-sex marriage is an issue that has long been close to Aulich's heart. She is invested, professionally and personally, in seeing couples navigate that moment - and it is, to all intents and purposes, a moment - that bridges the unmarried and the married state.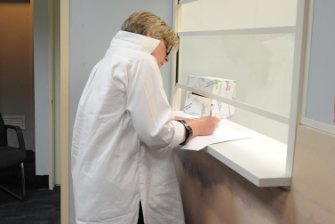 But it's not a career she'd ever thought about early in her life. As she tells it, she fell into being a celebrant almost by chance. She had been a teacher for 20 years, and was still a few years away from leaving the profession, when a friend suggested they look into becoming celebrants together.
"I had no interest in being a celebrant, never thought of it, never been to weddings, didn't know a celebrant," she says.
"[My friend] said, 'When I've finished teaching, I'm going to be a celebrant. Why don't you think of being one too - we can train together'. And I thought about it for about 10 minutes and thought, well, I suppose I could."
So the pair trained together, and Aulich qualified shortly after leaving the teaching profession. Ironically, the friend found she didn't enjoy the work, and is no longer registered. But for Aulich, marrying people has been a lucrative and satisfying second career.
These days, she says, she takes between 100 to 200 bookings a year; she already has 150 bookings for this year, and it's only July (at time of writing).
"I take a lot of bookings and I marry a lot of people," she says.
"I always think I'm going to cut down every year, and I never do."
For the past few years, a large proportion of these bookings involves what she terms "quickies" - a small, unembellished ceremony that involves little more than some words from Aulich and the signing of documents. It's the equivalent of a registry wedding, in a town that doesn't have a registry office.
Many of these she does at her own home - the courtyard makes a lovely setting for a small ceremony, and if the weather doesn't suit, she marries people in front of the bookshelves in the living room.
She charges less for these services, she says, because the effort she expends is comparatively minimal. A quick change of clothes, while her husband gets out the leaf blower and, literally, clears the decks. Once it's over, Aulich plumps up the cushions, and changes back into her weekend clothes.
"Last year I did 140-odd ceremonies, and 80 quickies - quite a lot," she says.
"And to be honest, I'm trying to phase out the bigger ones and concentrate more on quickies."
Not that she doesn't enjoy a shindig; she's presided over ceremonies in a large proportion of Canberra's popular wedding venues, popped down to the coast to marry couples and, in one more memorable ceremony, driven through some perilous backburning fires to marry a couple in an unfortunately timed ceremony at Namadgi National Park.
Not surprisingly, she says, the weddings in her logbook have been overwhelmingly joyous experiences.
"I've married people on their deathbed and things like that - they're not exactly joyous, but you're doing what they want you to do, and it's important to them," she says.
But she says those involving same-sex couples have a separate seam of happiness, because so many of these couples have been waiting so long to make it to the altar - be it Aulich's back courtyard or a full-blown, flower-festooned arch.
"It's got that extra layer of emotion attached to it," she says.
By far her busiest period was during the first days after the ACT enacted laws allowing gay couples to marry in 2013. Knowing the law would likely be overturned by the High Court in the near future, Aulich married seven couples on the first day the law was in place.
"Those couples wanted to make that political statement, to marry on that first day. So I started at 7.30am, and I think I finished 6.30. It was busy, but it was a special day. You feel privileged to do those sorts of things," she says.
Joy and emotion aside, there's a surprising number of nuts and bolts when it comes to being a registered celebrant, and for the past 10 years, until just recently, Aulich has trained others as celebrants.
"The Attorney-General's department, which oversees the marriage celebrant section, always prepares a two-hour topic on legal matters, because you actually do have to know the Marriage Act," she says.
"Many weddings are just routine, but you've got to know a whole lot of exceptions and stuff. We do two hours on that, and then the other three hours is made up with training organisations on things to do with celebrancy, and how to plan a ceremony."
Aulich says she approaches each marriage first and foremost from a legal perspective, and tries to keep her own views separate from her work. Not that she has any issues marrying those who are clearly after a quick visa, or those with massive age differences, for example, although she did once decline to marry a couple when the groom refused to take out part of his vows that she thought demeaned the bride.
"It's actually not my place to make a moral judgement," she says.
"There are four criteria that couples have to meet. They have to be at least 18, they have to be not in a prohibited relationship, which means not too closely related, not married to someone else - and that is all documented legal stuff you have to know - and then they have to give full consent. And it's my place to determine if it's full consent, so if they are pissed, for example, they can't enter into a legal contract."
She tends to give couples a little pep talk whenever she gets the opportunity, warning them not to get stuck into the booze before the ceremony. She herself never drinks on the job, and rarely sticks around once the couple is married and the forms are signed.
"Here's something we always say in the industry - or I certainly say: You're never more past your used by date than when you've pronounced them husband and wife. No one's interested in you," she says.
She tends to pack up and leave discreetly; more often than not, she has another wedding to attend straight after anyway.
You're never more past your used by date than when you've pronounced them husband and wife. No one's interested in you.

Judy Aulich
Although her decision to become a celebrant was quick, and involved little planning, she often sees parallels between what she did as a teacher, and what she now does in front of a couple and their expectant guests.
"In all the classes I've taught as a celebrant, there's a disproportionate number of teachers, because the skills transfer," she says.
"We're used to standing up and talking in front of people, we're used to getting attention."
And, for the most part, what she has seen throughout her career - around 1200 weddings and counting - has been love, warmth and profound emotion.
When she started out, she was 58 and planned to work as hard as she could and retire at 65.
"That was about as old as I could conceive of being. But when I got to 65, I thought well, it's not all that old, I thought I'll go til I'm 70. Well, I hit 70 in February, and I'm still enjoying it," she says.
"You're promising yourself to another person for the rest of your life, and overwhelmingly I think couples earnestly believe that their marriage will last forever.
We know they don't, because you've only got to look at the statistics. But I reckon they go into marriage with the earnest hope and intention that it will."
Sally Pryor is a reporter at The Canberra Times.