Katter party set to take flight
Katter's Australia Party will throw its Akubra in the ring and field Canberra candidates at the federal election.
Party founder Bob Katter will announce on Thursday two nominees to contest lower and upper house seats in the territory. Steven Bailey, who heckled the Opposition Leader, Tony Abbott, during a workplace visit in Canberra last year, will run for the Senate. A candidate yet to be announced will stand against Gai Brodtmann for the seat of Canberra.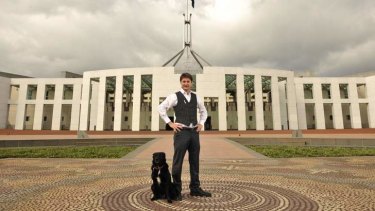 A party spokesman said nominations were still open to challenge Andrew Leigh for the seat of Fraser.
Mr Bailey will take on Greens candidate Simon Sheikh, Labor incumbent Senator Kate Lundy and either Senator Gary Humphries or Zed Seselja for one of two ACT upper house seats.
The 29-year-old former Australian National University student is a departure from the right-leaning candidates making headlines for the new party.
At first glance, Mr Bailey, a classically trained musician who is writing his second commissioned opera, appears more suited to the Labor or Greens ranks.
He supports renewable energy, sustainability, arts funding, legislation to limit the market share of Woolworths and Coles, pension increases and respect for the human rights of asylum seekers.
Locally, he said saving the ANU school of music and public service jobs were high on his agenda.
Mr Bailey told Fairfax Media he was a strong supporter of indigenous rights and went to the tent embassy this week to seek permission from Ngunnawal and Ngambri elders to campaign in Canberra.
He said perceptions that KAP was another far-right political group coming out of north Queensland were unfounded.
He said comparisons to Pauline Hanson's One Nation Party were inaccurate and distasteful.
"It isn't a narrow party … it's a lot more diverse and three-dimensional than conveyed in the media," he said.
"We're not left and we're not right. It takes two wings to fly and we're the only party with two wings."
Mr Bailey appealed to ACT voters to judge the party on its policies, not misconceptions. "I'm asking for the ACT to allow me to earn their vote."
The newly minted candidate joined KAP after meeting the member for Kennedy through a mutual acquaintance. He attended the party's national conference last year.
Mr Bailey admitted he was sceptical about the party at first but joined after being impressed by Mr Katter's honesty.
He said KAP rose above the "binary opposition myopia" flourishing in modern politics.
"It's a party that requires you to be yourself and act in the best interests of your community,'' he said.
"The Parliament is the people's place for the contest of ideas but it's become a mockery under the watch of Labor, the Coalition and the Greens. The way for the politic of Australia is to grow parties like ours and modernise in the way that Europe and Japan has. Two party parliamentary systems are just archaic."