Katy Gallagher and Zed Seselja in bitter stoush over gay marriage
The ACT's senators are involved in a slanging match over gay marriage as tension mounts in federal parliament on the issue.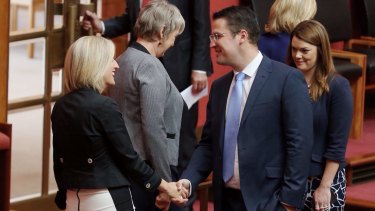 During a press conference, however, she said she supported both a free vote in federal Parliament for gay marriage and a binding vote on Labor MPs on the issue.
Earlier Senator Seselja singled out Assistant Treasurer Josh Frydenberg who had reinterated his support for marriage equality during a TV appearance on Monday night.
"I don't think we should have a situation where ministers go against party policy," Senator Seselja said.
Senator Gallagher said Senator Seselja's attempts to "shout down" his colleagues came despite his call for a referendum on same-sex marriage last week.
"Senator Seselja's own personal objection to marriage equality should not be used as a road block to other MPs who are seeking a free vote on it," she said.
Asked if she supported a binding vote or a conscience vote within the Labor Party, she said: "I support both.
"I support a conscience vote - that is what is before the Labor Party caucus and that is the issue that is before the Parliament - I support that.
"On the issue of binding, it is a completely separate matter for internal Labor Party discussion. There isn't even one going on at the moment so the issue is around a free vote in the Parliament and that is what will allow marriage equality to progress in this country."
Senator Seselja said: "Katy Gallagher has embarrassed herself by saying she was both for and against a conscience vote in the same press conference. Perhaps Senator Katy Gallagher should figure out what she actually believes on this issue before lecturing the Liberal Party."
Liberal National MP George Christensen joined the criticism of ministers on Tuesday, telling Fairfax Media MPs campaigning for a free vote were being disloyal to the party's base.
"Whether ministers and parliamentary secretaries like it or not the Liberal National Coalition's policy is to support the retention of the definition of marriage as outlined in the Marriage Act," he said.
Mr Frydenberg is one of several ministers who have campaigned for gay marriage while serving in the executive. Others include Environment Minister Greg Hunt and the junior minister Simon Birmingham.
Despite speculation that Liberal MPs would use a regular party room meeting on Tuesday to raise the issue of a free vote, the issue was not discussed.
Any MP or senator could raise the matter from the floor, but none took the opportunity.
On Monday, Prime Minister Tony Abbott pointedly stressed that "every single" Coalition member would be focused on the budget for the next few weeks. Many senators were also away from this week's meeting due to Senate estimates.
Marriage equality advocates believe there may be enough support in the Parliament to pass a bill to legalise gay marriage now that marginal Liberal MP Sarah Henderson has also declared her support.
There are three bills currently sitting in the Parliament to legalise gay marriage, put forward by the Greens, Liberal Democrat David Leyonhjelm and Labor leader Bill Shorten.
However none are likely to succeed as Mr Abbott has called for a cross-party bill which the entire Parliament will own as opposed to one political party.
Ms Henderson backed a cross-party bill and told the ABC on Tuesday that the party's base was shifting in favour of gay marriage, which opinion polls show the majority of the public also supports.
Ross Peake is a senior reporter for The Canberra Times