Katy Gallagher promises to stand up for Canberra
Katy Gallagher will use her new role as a senator to campaign against Canberra receiving second-rate treatment from the Abbott government.
After being sworn in on Thursday to replace Katy Lundy, Senator Gallagher said her time as ACT Chief Minister would strengthen her new role.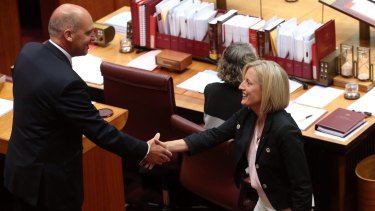 "I have a lot of contacts after being Chief Minister and part of what made me come here was seeing in the last two years what's happened to Canberra, with the decisions made at the stroke of the pen of a minister who either doesn't care about Canberra or is indifferent to it," she said.
"Being the Chief Minister, probably more than any other position, you understand, whether it's a decision of the NCA or a decision of the federal government, just what it means when it translates into our city.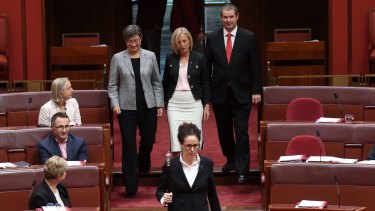 "Four thousand public service jobs in Canberra might seem like nothing to a prime minister, but what it means to our city is a lot more, it's impact on small business and on community services and on the public housing waiting list, everything relates to each other.
"I bring that perspective here, and representing the ACT will be my number one focus.
"I'm going to be contesting my first election as a senator, defending Canberra, speaking up for Canberra and promoting Canberra."
Senator Gallagher enjoyed more family time during her three months "gardening leave" and reflected on how busy the Chief Minister's job is.
"I don't think there's any other job like it," she said, noting federal ministers had only a particular area of responsibility.
"When you're in the Chief Minister's job, you can't even countenance another job because it is so consuming," she said.
"The decision [to resign] nearly made me ill."
Senator Gallagher said she was looking forward to becoming involved in committee inquiries as a backbencher.
"There is some adjustment because I'm not in the leadership," she said.
"I have to do my time and I understand that, I'm not going to be someone who doesn't say anything, but I will be respectful to the team."
She would like to serve on the public accounts committee and be involved in formulation of health policy.
Senator Gallagher sits across the chamber from her former adversary, Zed Seselja, a former ACT Opposition Leader, who successfully challenged long-serving Liberal Gary Humphries for party preselection.
Parliament rises on Thursday for a six-week break before the Budget, allowing Senator Gallagher to settle into her her role and become involved in committees.
Ross Peake is a senior reporter for The Canberra Times