Katy Gallagher slams Jeremy Hanson's 'sexist and offensive' speech
Outgoing Chief Minister Katy Gallagher has criticised Opposition Leader Jeremy Hanson for what she called "sexist and offensive" comments made during a special sitting of the Assembly on Thursday.
Ms Gallagher used a post on her Facebook page on Thursday night to criticise Mr Hanson for a "graceless negative speech outlining a 1950's vision for Canberra" after the election of Andrew Barr as Chief Minister.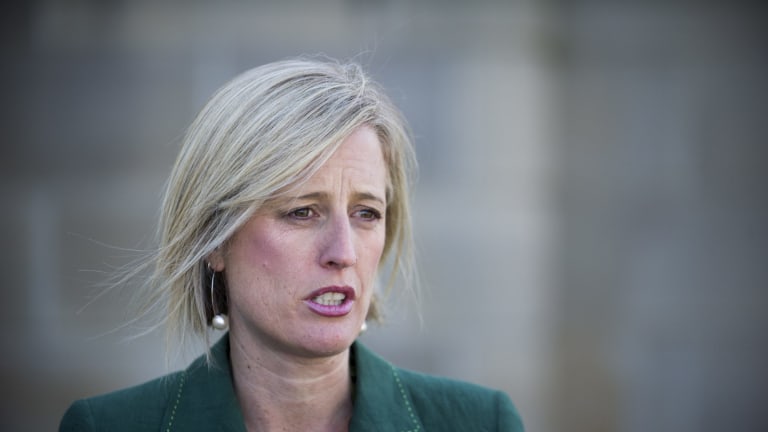 Mr Hanson said he was hurt by the claims.
His farewell to Ms Gallagher included praise of her partner David and mistakenly acknowledged her three daughters. Ms Gallagher has two daughters and a son.
"Maybe there's another one to come, I don't know," Mr Hanson said after being corrected during the speech in the Assembly chamber.
Ms Gallagher stood down as ACT Chief Minister last week after declaring she will contest the Senate vacancy created by Kate Lundy's retirement.
"On a day when the previous accepted convention is to show respect for the former and new Chief Minister Jeremy Hanson ignored this and also managed to cause further offence by musing in his speech on whether or not I will have more children now that I have left the top job," the Facebook post read.
"Sexist and offensive and something a male politician would never put up with. Yet another example of why we need more women in politics.
"It is also why ACT Labor will win in 2016."
On Friday, Mr Hanson said the post was hurtful and unwarranted.
"My words about Katy Gallagher, from the moment she made the decision to leave the Assembly, have been nothing but heartfelt," Mr Hanson said.
"To make the point that there is more time for all of us for family after politics is genuine, it is the same as comments Andrew Barr has made about his own intention for family and I am genuinely hurt that she has used those heartfelt words to label me in that way."
"It's a rough game politics but I have always chosen to attack people on policy, on their position... not play the man and not play the woman."
Mr Hanson said the comment was made as he acknowledged the sacrifice politicians' families made during their public service. He said his wife was upset by the criticism.
Ms Gallagher wrote that Mr Hanson's speech contrasted with Mr Barr's "heartfelt passionate address full of optimism for the city we love".
The responses to the Facebook post have been overwhelmingly supportive of Ms Gallagher with more than 75 Facebook users commenting on the post and more than 1000 'likes' as of Friday morning.
Mr Barr said Mr Hanson's speech was "graceless and disgraceful" and signalled a more aggressive approach from the Opposition.
"I think a lot of people were frankly stunned by that contribution but ultimately, Mr Hanson has to answer for his own actions."
Ms Gallagher is yet to name a date for her resignation from the Legislative Assembly, but it is expected before Christmas.
Morning & Afternoon Newsletter
Delivered Mon–Fri.