King George V and the sk8tr kidz spark move to skateboard-proof Canberra's national memorials.
He proudly led his nation through the hazards of Great War and Great Depression but now Canberra's local authorities say King George V faces a new danger – the capital's skateboard kids.
So great is the peril posed by the city's grinderz to the war time monarch's memorial that the National Capital Authority is preparing to "skateboard proof" the landmark.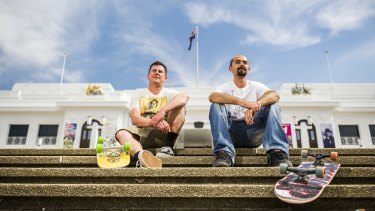 The King George V monument is the latest in a long line of Canberra's national memorials to have "skateboard deterrents" fitted, with the authority saying the work is about letting visitors enjoy their national heritage in safety.
But leaders of Canberra's skateboard community say that each time they are excluded from a site, a little piece of their own culture is lost.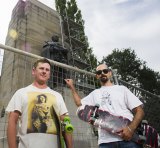 Melbourne firm IG Parker have been hired to give the memorial outside Old Parliament House a $326,000 spruce-up, including re-pointing the stonework and installing the skateboard deterrents.
King George is not the only Canberra monument to get the anti-skateboard treatment with many of Anzac Parade's war memorials also having undergone the work.
But unbeknownst to most Canberrans, the King George V memorial is a revered site for the city's skaters and has even featured in promo videos for international pro skate teams as they toured Australia.
But the NCA's new Director of National Engagement, Kate Still, says memorials are for looking at, not for skating.
"It is recognised standard practice to install skateboard deterrents not only on national memorials but in public spaces on features such as street furniture, handrails, retainer walls, planter beds, fountains and paved surfaces," Ms Still said.
"The National Library of Australia fountain, as well as some of the memorials on Anzac Parade, also have skateboard deterrents."
Ms Still said King George has had deterrents installed before and the job is relatively cheap, coming in at about 1 per cent of the project cost.
President of Canberra Skateboarders Tony Caruana said he and his fellow skaters understood that not everyone would approve of grinding on national memorials, but skaters had a strong tradition of using whatever settings were to hand.
"People will always have mixed views about it, but that's what skateboarders will always do, they'll always seek to reinterpret their environment," Mr Caruana said.
And although the memorial might not look promising to the uninitiated, it is actually a near-perfect setting for skating.
"The ledges are a perfect size, I think they're marble as well and that's perfect for skateboarding," Mr Caruana said.
"Because you've got a ledge stacked on a ledge, that's perfect for skateboarding as well."
Mr Caruana said he understood why the NCA was attracted to the deterrents but it was always a sad day when another space was lost to the skaters.
"It's a little disappointing when skateboarders see a little of the culture being eroded away," he said.
"When things are happening like the ledges are capped, there's a bit of a tear shed in certain circles."
Noel Towell is State Political Editor for The Age