Kitchen Garden: Using native dried herbs and spices
Fiona Porteous makes bread rolls in which Australian native seeds and berries are included. I purchased some of them at the Queanbeyan/Palerang markets and shared one with a couple of food loving ecologists.
From its appearance, they thought it was a truffle or a gnarled beetroot but we all loved the elusive taste, aubergine hue and crumbly texture. It contained the ground berries of the cool-climate rainforest shrub pepperberry (Tasmannia lanceolata) and Fiona has generously shared the recipe. She also makes pepperberry and wattleseed chocolate truffles with a splash of rum or a native liqueur such as Jaggard.
In 2014 Fiona started Bent Shed Produce near Tarago on a 47 hectare property of mostly yellow box and she-oak bushland. More than a decade earlier, visiting a Canberra friend Cath Lawrence, Fiona saw on her bookshelf Wild Lime: cooking from the bush food garden (1996). It set her future direction and Fiona started selling bush-ranged poultry and Australian native produce at district markets.
Among the dried herbs and spices, 'native peppersalt' is the most popular. The infused salt is a mix of Murray River salt flakes, ground pepperberry, ground pepperleaf and wattleseed and adds zing to things that go with red wine such as home baked potato wedges, marinated red meats when the drippings make superb gravy, and roasted vegies. Plain pepperberry can be used in place of black pepper to add greater fragrance and heat to a dish, lemon anise salt is also popular and lemonberry sugar which is a blended mix including lemon myrtle and forestberry herb. Fiona also shares her recipe for lemonberry meringues which are crispy bite-sized and very moreish.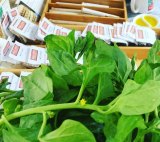 In her home garden, Fiona has domestic or commercial quantities of many cool climate native edibles and says we should and could use them in everyday cooking. These include Warrigal greens (Tetragonia tetragonioides) which she sells as branches of fresh leaves, river mint (Mentha australis), Mintbush (Prostanthera rotundifolia), Saltbush (Atriplex nummularia), appleberry (Billatdiera scandens), pigface (Carpobrotus glaucescens), pigweed or purslane (Portulaca olderacea) and forestberry herb also known as strawberry gum (Eucalyptus olida). She also grows the more usual kitchen garden plantings and plans to sell any surplus through her stall. She specialises in the weird and wonderful like olive leaf herb and the mushroom plant herb (Rungia klossii). It was Fiona's mother who provided the grounding for both her gardening and cooking but when Fiona realised she actually liked weeding, the gardener forever was born.
Her partner, Pete Micallef (known as The Bloke) likes to be called the "infrastructure manager" meaning he chops, builds, digs, creates and wields a mean chainsaw and hammer. The couple keeps around 100 chooks, ducks, geese and guineafowl, the chooks a mix of purebreds Ancona, Marans and Araucana, mainly for the coloured eggs, as well as farmyard crosses. The poultry was mainly to create good soil for the planting of food gardens.
You can find Bent Shed Produce, fortnightly, at a number of local markets. Fiona is a committee member of Southern Harvest Association and she will be at Southern Harvest Farmers Market in Bungendore (9am-noon Anglican Church Hall, Butaroo Street, Bungendore on August 26, September 9), the Farmers and Foodies Market at Kingston's old bus depot (4pm-7.30pm on August 25, September 8) and at the South Coast Field Days on September 23 and 24 at Cobargo Showground.
Pepperberry bread rolls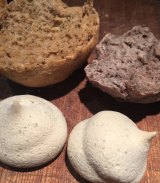 500g flour (white is best to show off the colour)
15g dried yeast or 30g fresh yeast
half tbsp olive oil
1 tsp salt
30g ground mountain pepperberry
300ml blood heat water (plus extra for yeast)
Place the yeast in a small bowl and add half cup of blood-heat water. Let sit for at least ten minutes to soften, turn into a cream and start bubbling. Mix all dry ingredients in a mixing bowl. Add the wet ingredients and mix to a soft dough using your hands or a dough hook of a food processor. Knead for ten minutes until dough is soft and silky. Adjust water or flour quantities so it is soft but not stickily wet. Cover with a tea-towel and place dough in a warm location. Rise ('prove') for 60-75 minutes. Gently punch down and knead into a long sausage shape. Create 12 bread rolls and place on a baking sheet on a tray. Heat oven to 200-220C. Cover rolls with a tea-towel and place in a warm place for the second proving (about 30 minutes). Put rolls straight into hot oven for ten minutes, then turn the oven down to 180C for another ten minutes. Take rolls out of oven and let cool.
Lemonberry Meringues
4 fresh local egg whites (duck is ideal)
150g lemonberry sugar
2 tsp boiling water
half tsp white vinegar
Line baking trays with baking paper. Preheat oven to 130C. Whip all ingredients until light and fluffy (for about ten minutes). Prepare a piping bag with a 1cm nozzle (or use a sandwich bag with lower corner snipped to make 1cm hole). Scoop mix into bag and pipe shapes onto paper (buttons look good). Bake for 30 minutes until cooked but not browned. Turn oven off and leave tray inside to let cool completely (which crisps the meringues). Store in an airtight container for up to a week.
Susan Parsons is a Canberra writer.