Kitchen Garden: Vegan delight
At the launch party of the current So Fine exhibition at the National Portrait Gallery, the first tastes offered to guests were described as vegan and gluten free.
Chef explained to me later that they were sweet potato and black bean fritter balls, deep fried for colour then finished in the oven. They were made with almond meal and had a tiny blob of lime avocado puree on top, with a red speck of jalapeno pepper and fines herbs.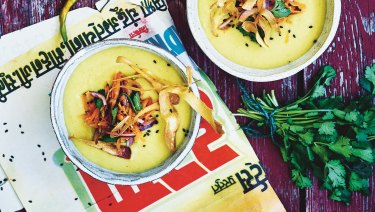 Vegan is on trend and, if you grow your own vegetables, herbs and fruit in the home kitchen, you probably tend towards more vegetarian and vegan dishes than heavy hand with meat. Many kitchen gardeners I meet say their plots or plantings provide the main ingredients for dinner or, even in winter, a high note from citrus, bay leaves, rosemary or thyme.
In 2016, the Sydney Morning Herald reported market researcher Euromonitor International showing that Australia's packaged vegan food market was worth $136 million, led by dairy-type products. This year, Delicious magazine quoted Roy Morgan Research that 2.25 million Australians aged 18 and over live a meat-free life.
Gaz Oakley, a former professional chef known as the "Avant-Garde Vegan", has 234,000 followers on Instagram and 24,000 on Facebook. He started Instagram postings in 2016, a few months after turning vegan, "for the health benefits, love of animals and to do my part in looking after the planet".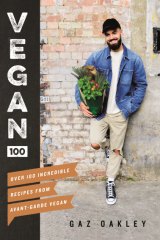 Now Gaz Oakley has written Vegan 100 (published by Quadrille rrp $29.99, available in stores nationally). His experience as a chef meant Gaz used classic techniques to adapt and cook his own recipes. These include burgers and dogs, sausages, peri peri falafel and buckwheat crepes.
A popular essential is his homemade non-dairy milk - using almonds, cashews or rolled oats. His list of vegan ingredients includes miso paste, nori, pomegranate molasses and tofu, plus pantry essentials like chickpeas, coconut milk and oil, quinoa and chia seeds.
One of the author's favourite vegetables is beetroot which features in lots of his recipes, including hot pink beetroot ketchup, the soup pea veloute with beetroot ravioli and a warm raw salad of beetroot, sweet potato, orange and walnuts - all of which I would grow or purchase at the farmers market and eat with glee.
Quadrille Publishing has given permission for us to publish an edited extract from the book for Gaz Oakley's aromatic soup which is rich and creamy, similar to dhal, and perfect on a cold day. He says lentils are a great form of fibre and help to lower blood cholesterol, and to top the soup with a spicy carrot and coriander salad and crispy parsnips to make it extra special.
Fragrant parsnip and lentil soup
(Serves 4-5)
l tbsp coconut oil
1 medium white onion, finely sliced
1 tsp chopped fresh ginger
2 garlic cloves, crushed
1 tsp ground cumin
1 tsp ground coriander
quarter tsp ground turmeric
quarter tsp chilli powder
quarter tsp ground cardamom
quarter tsp ground cinnamon
5 parsnips, peeled and cubed
200g (1 cup) red lentils, rinsed
720 mls (3 cups) vegetable stock
480 mls (2 cups) soy milk or almond milk
pinch salt and pepper
sprinkle of black onion seeds, to serve
For the parsnip crisps:
1 parsnip, peeled
3 tbsp vegetable oil
pinch salt and pepper
For the carrot and coriander salad:
1 carrot
1 red onion, finely sliced
handful of fresh coriander, chopped
1 green chilli, finely chopped
Preheat the oven to 180C. First make the soup. Heat the coconut oil in a large, lidded saucepan over a medium heat and add the onion, ginger and garlic. Stir for 1 minute, then add all of the spices. Season with salt and pepper. Cook for 2-3 minutes., stirring often (at this point the smell will be incredible).
Add the parsnips to the saucepan, then the lentils. Quickly give it all a stir, then pour in the vegetable stock and the milk. The milk helps the parsnips retain their colour. Pop the lid on, turn the heat down to low and simmer for 20 minutes. Double check that the lentils and parsnips are tender and remove the saucepan from the heat.Use a hand blender to blend the soup in the pan.
It doesn't have to be super smooth. If your soup is on the thick side, add more water or milk.
Giveaway
Now, here's the trick. We have one copy of Vegan 100 to give away. To win, tell me how you would prepare the parsnip crisps and make the carrot and coriander salad. Bonus if you grow your own parsnips, carrot and/or coriander. Am also interested to hear if you are a vegan. Send with your name and address to: bodenparsons@bigpond.com.au