La Clique in The Famous Spiegeltent with Gerry Connolly as the Queen
The Famous Spiegeltent. Civic Square outside the Canberra Theatre Centre. February 19-March 14. canberratheatrecentre.com.au.
Unsurprisingly, when interviewing an impressionist it takes less than 20 seconds for one of their alter egos to get on the phone.
"I'm 90," the slightly raspy voice of Her Majesty Queen Elizabeth tells me down the phone.
Australian actor and comedian Gerry Connolly has been acting, singing and performing in one way or another across the globe for decades, and is most well-known for his satirical caricatures of public figures, many politicians, and of course – the Queen.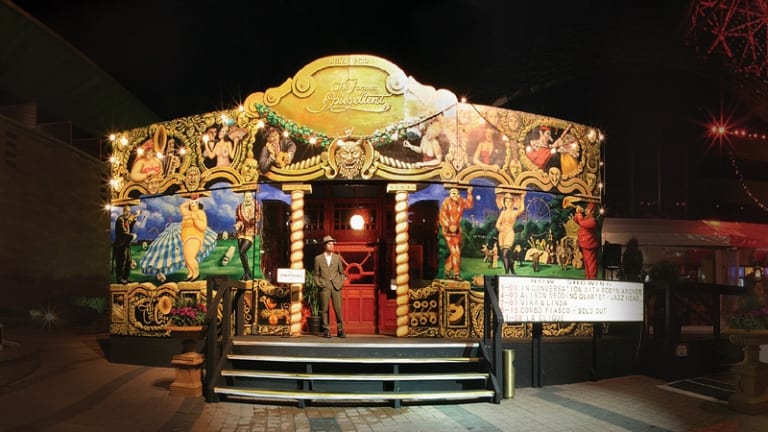 "It's a state visit to Canberra. It's a belated visit for the centenary. Specifically to Canberra nowhere else. And to sort Malcolm Fraser out. That's his name isn't it?" the Queen says.
As well as the Queen, who may be in for less of a warm greeting considering the recent talks about Australia becoming a republic, Connolly says Canberra audiences could be treated to a whole other kind of royalty.
"There might be live broadcast from the SBS news desk as a contrast. ...Lee Lin Chin might be joining us," he says.
The reason for The Queen and Lee Lin Chin's visit – to star among the troupe that makes up La Clique – the headline act at The Famous Spiegeltent, which will take over Civic Square in front of the Canberra Theatre Centre on February 19-March 14. The cabaret-variety show, which first premiered at the 2004 Edinburgh Fringe Festival, features musicians, magicians, acrobats, burlesque performers, and, of course, an impressionist. Since its inception, it has played to sell-out crowds in London, New York, Paris and Montreal, and has picked up a number of awards along the way, including an Olivier in London in 2009.
"It's a high-calibre, very visual show from an international cast. It is a variety show in that way in the tradition of it's a modern sort of retake on variety, new circus they call it. There's also burlesque so there's a bit of friskiness, some semi-nudity. That's not from the Queen," Connolly says.
The main star of the show is the venue itself – the 96-year-old Famous Spiegeltent made in Belgium. The show was originally performed in The Famous Spiegeltent, and while it's been performed for extended periods since then in permanent theatres, it will return to its roots for the Canberra season.
"It's hard to resist the Spiegeltent," Connolly says.
"I ran away with it about 10 years ago I think and I love to dabble and duck and weave and bob and I turn up in it every so often. It's a romantic kind of pre-electricity mood in there.
"I go in and out of it. I'm a semi-regular in all of its guises. I've performed in it in Sydney, Melbourne, Auckland, Edinburgh, Brisbane. I think now IKEA is knocking out Spiegeltents because everyone wants one but this is the original."
The Famous Spiegeltent – the term is Dutch for "mirror tent" – is a hand-sewn canvas pavilion steeped in history, with the interiors built of wood, mirrors, velvet and brocade. Audiences sit in the round in intimate booths, surrounded by bevelled mirror columns with a chandelier and trapeze rig overhead.
Travelling with her wherever she goes are the ghosts of the thousands of cabaret artists, musicians, circus acts, burlesque performers and the audiences that have walked through her doors, including siren Marlene Dietrich who sang Falling in Love Again on the stage in the 1930s.
"It's just beautiful spooky romantic to be in it, let alone to perform in it. People go in and forget their cares in a whole different way and it's probably what Canberra needs at the beginning of the political year."
Morning & Afternoon Newsletter
Delivered Mon–Fri.