Labor MP blasts federal government over support for ACT's 'gold-plated' light rail
A federal Labor MP has blasted the Commonwealth for chipping in $69 million for Canberra's light rail through its asset recycling scheme, in spite of Victoria gaining $877 million from the same program.
Lalor MP Joanne Ryan, who represents about 124,000 people in the south-western suburbs of Melbourne, hit out at the cost of the 12-kilometre line from Gungahlin to Civic, claiming Canberra's tram came at the "expense" of her constituents.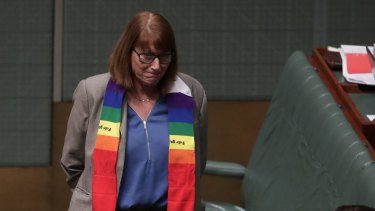 "It's a bit rich that Australia's least congested city will get a gold-plated tram network at the expense of people in Melbourne's outer west," Ms Ryan told the Herald Sun.
"We sit for hours in traffic and are left standing on packed station platforms, dreaming of a 20-minute city ride, while the federal government fails to deliver even our fair share (of funds)."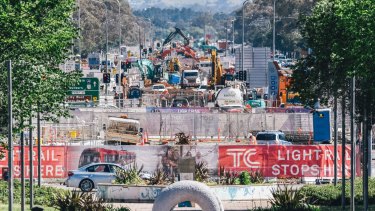 But while the ACT government will lobby the Commonwealth for funding when its business case for stage two of the project is finalised, the federal money for stage one came through the asset recycling initiative.
The program was a first-in, best-dressed incentive that offered up to $5 billion for state and territory governments as bonuses for selling ageing government assets.
Governments could get a 15 per cent bonus on top of the sale price from the federal government, if the money was reinvested in new infrastructure.
To take advantage of the scheme, state and territory governments had until June 30 last year to strike an agreement with the federal government over the sale of assets.
The assets had to be sold by 2019, and construction on new infrastructure begun by June 30, 2019.
​Victoria, NSW, the Northern Territory and the ACT shared in $3.3 billion as a reward for selling public assets, with a further $854 million absorbed back into consolidated revenue.
NSW was the largest recipient of the program, with $2.19 billion gleaned from the sale of Transgrid.
Their agreement with the Commonwealth states $78.3 million must be reinvested in Parramatta light rail, another 12-kilometre stretch of track.
The ACT first sold off ACTTAB for $105.5 million in 2014 to cash in on the bonuses.
Other sales included in the territory's Commonwealth agreement are: Dame Pattie Menzies House for for $15.03 million in August; Currong Apartments and Allawah Court, which was sold last February for $47 million; Dickson Flats, Karuah Garden Flats and the Visitor Centre, which was sold as a precinct for $40 million last August; Owen Flats, Lyneham Flats and DeBurgh Paired House, which sold for $45 million in March.
The ACT has reaped $68.9 million from the Commonwealth for these asset sales, $22.7 million of which were incentive payments.
Property slated for sale includes Macarthur House and the Dickson Motor Registry.
Ms Ryan was contacted for further comment.
Transport minister Meegan Fitzharris described her comments as Canberra bashing.
"As Victorians would know, investing in public transport early is important to avoid significant future congestion issues. The ACT government has received very little in the way of Federal infrastructure funding in recent years," Ms Fitzharris said.
"While I accepted the Victorians have grievances with the federal government, I make no apologies for the ACT government's efforts to attract investment in vital projects for our city.
"I would be happy to show Joanne Ryan the progress of stage one of our city wide light rail network when she is in Canberra."
Labor MPs Gai Brodtmann said the Turnbull government's 2017 budget delivered "next to nothing" for Canberra.
"Out of the $75 billion of infrastructure funding in the budget, the ACT received a paltry $3 million or 0.004 per cent of the overall spend," Ms Brodtmann said.
"This underscores, once again, the Turnbull government's complete and utter contempt and disdain for the Canberra community."
ACT Labor Senator Katy Gallagher refused to weigh in. Labor MP for Fenner Andrew Leigh was unable to comment because he was overseas.
Katie Burgess is a reporter for the Canberra Times, covering ACT politics.