Labor unveil plan for light rail line
ACT Labor will look to the private sector to fund its election promise of a light rail link from Civic to Gungahlin.
Announcing the ''Capital Metro'' policy yesterday, Environment Minister Simon Corbell said the government had already been approached by private operators interested in building and running a system in Canberra.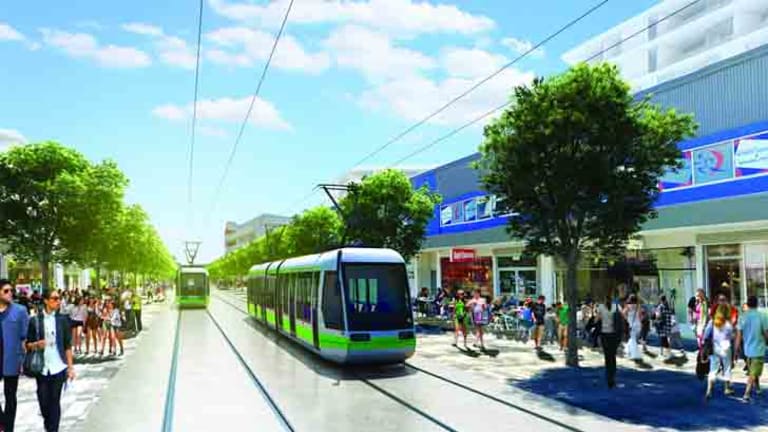 If the project goes ahead, it would be the first public-private partnership on an infrastructure project in the territory's history and yesterday's announcement also means that both Labor and the ACT Greens will go to next month's election with light rail as a central policy position.
The latest government costings on the scheme have put a price tag of $614 million on the Civic-Gungahlin line and Labor's policy has committed just $30 million for design work.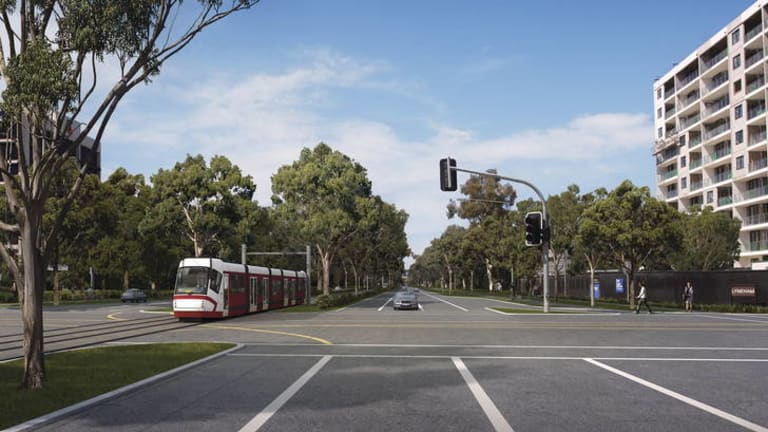 The plan includes a 13km stretch of track along Northbourne Avenue and Flemington Road. The line would use vehicles capable of carrying up to 200 passengers, along a route from Hibberson Street in Gungahlin to the City Centre. Major stations would be at Gungahlin Town Centre and Dickson Group Centre with stops 750m to 1.5km apart at various points along Flemington Road and Northbourne Avenue.
The ACT Liberals were dismissive of the announcement, criticising Labor's record of infrastructure delivery, while the Greens said Labor was jumping ''on the green line.''
The Greens plan calls for a Canberra-wide light rail system to be built, paid for with a mix of public and private funding.
Australia's latest light rail project, GoldLinQ on Queensland's Gold Coast, is being built and will be operated by a private sector consortium.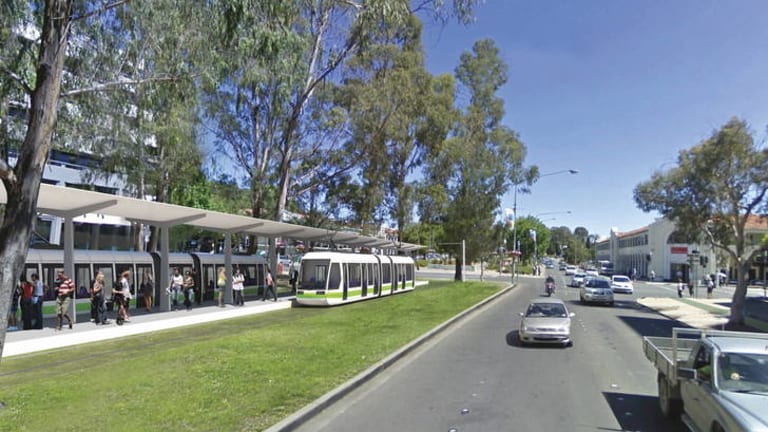 Chief Minister Katy Gallagher and Environment Minister Simon Corbell made the announcement at Northbourne Avenue in Dickson yesterday, declaring the policy ''visionary.''
''Now is the right time for us to put our money where our mouth is and go to the next stage,'' Ms Gallagher said.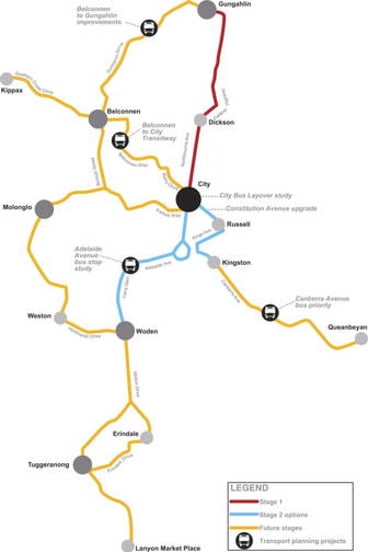 ''So we're committing $30 million to get this project to market-ready stage.''
Mr Corbell said the spending would get the project past design stage and did not anticipate beginning work for several years, if Labor was re-elected.
''That involves the final design and the detail of the work that needs to be put together,'' he said.
''The government has already received approaches from private sector companies with experience in delivering and operating a light rail network and we believe that is how Capital Metro can happen.
''That means we can continue to invest as a government in schools and in hospitals but at the same time deliver the transport choices that Canberrans want to see.''
Greens transport spokeswoman Amanda Bresnan said her party's ''vision has finally been accepted'' by Labor.
''This is great news for Canberra,'' she said. ''The Greens are pleased to see that the case we've been making for light rail has finally been accepted by the ALP.
''We've seen over the course of this Assembly that when another party shares a vision with the Greens we can deliver great outcomes for Canberra.''
Canberra Liberals leader Zed Seselja questioned Labor's ability to deliver light rail.
''There's a serious question mark over ACT Labor's commitment to this promise and ability to deliver it, given their record on major infrastructure projects,'' Mr Seselja said.
Damien Haas of pressure group ACT Light Rail welcomed the announcement yesterday but said he had reservations.
''It's a long time coming but it's very welcome,'' Mr Haas said.
''ACT Light Rail are very pleased with the election policy, however we do have some reservations in that this is $30 million for a series of reports.''
Morning & Afternoon Newsletter
Delivered Mon–Fri.