Lake Tuggeranong closed due to blue-green algae as Lake Ginninderra reopens
Lake Ginninderra has reopened but Lake Tuggeranong is now closed due to "extreme" blue-green algae.
Authorities have closed the south Canberra lake to swimming, diving, water-skiing and windsurfing on the advice of ACT Health after cyanobacterial scum formed across the water surface.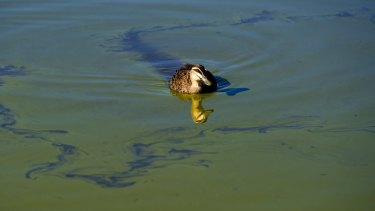 "The lake is closed to primary-contact recreation, as exposure to this level of blue-green algae carries an increased health risk," an Access Canberra spokeswoman said in a statement
"In particular, contact with algal scum should be avoided. Clothing that has been in the water should be washed to remove any blue-green algae residue."
People can still row, fish, boat and canoe on Lake Tuggeranong but must not submerge their heads or bodies.
Those who do should shower afterwards and see their doctor if they develop any adverse symptoms.
"Water event organisers should ensure all participants are aware of the blue-green algae alert level, the associated exposure risks and provide adequate shower facilities," she said.
"Pet owners should not allow their animals to swim in or drink the water, as blue-green algae can make pets very ill or even result in death."
Meanwhile, algae levels in Lake Ginninderra have fallen far enough to reopen the lake for unrestricted use.
The lake was closed to swimmers at the start of November after high levels of blue-green algae were detected in multiple areas of the lake.
However users are warned to watch out for algal blooms and report any algae sightings to 13 22 81.
Katie Burgess is a reporter for the Canberra Times, covering ACT politics.