Four sporting codes, one $12.5 million complex.
While they're usually competing for players, corporate dollars and television revenue, rugby league, rugby union, soccer and Australian football are all co-existing in Gungahlin.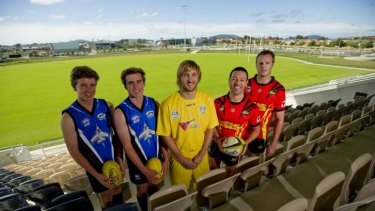 The Gungahlin Bulls (rugby league), the Gungahlin Eagles (rugby union), the Gungahlin Jets (Australian football) and Canberra City (soccer) will all use the new Gungahlin enclosed oval.
The grandstand holds 1150 people with 550 seats undercover.
The oval will only be used on match days, with each of the clubs training at their respective home grounds.
Bulls development officer Pat O'Sullivan said the benefits of using the ground would flow back to an increase in junior numbers after playing out of West Belconnen for the past seven years.
''It's very difficult to link with the area when you're playing out of the area,'' Mr O'Sullivan said.
''We're going to link better with the Gungahlin community with sponsors and supporters and make it accessible for our juniors to watch the games.
''We have one of the largest junior bases in Canberra in rugby league and that will only improve with a fantastic venue.''
The biggest challenge will be maintaining the playing surface during the busy schedule, especially in the middle of winter.
City veteran James Perry is confident the ground will hold up and believes it will be a major improvement on playing Capital Football Premier League games on the synthetic surface at the Hawker Football Centre.
"It's been pretty telling on the body and a lot of injuries, so it's good to get back to the grass and hopefully start winning some games,'' Mr Perry said.
"We're a bit wary about sharing the ground with rugby, tearing the ground up with tackles and everything, so it was a good decision to delay the games (last weekend) with the weather the last few days.
"I was speaking to the grounds keeper earlier and he said it would be fine and he's the expert, so I'll take his word for it.''
ACT Sports Minister Andrew Barr said the ground was designed so that rectangular football codes could be brought closer to the main grandstand.
"Given it's capability of hosting four different sporting codes, it allows for the first-grade premier competitions in each of the codes to have a home in Gungahlin,'' Mr Barr said.
"As the region grows, 48,000 population now and expected to grow to about 70,000, there is a need for a facility of this standard.
"The facilities are better than anything else in the territory at the district level and I'm sure it will be a graveyard for visiting teams.''
Lee Gaskin is a sports reporter at The Canberra Times.