Laurie McDonald and the art of a successful small business
Take some Japanese philosophy, a lot of hard work and a fair share of gratitude and there is Laurie McDonald, one of the ACT's most successful businesswomen.
From a homeless teen to a self-made success, ironically in the business of accommodation, Laurie never forgets the help she received along the way.
Her business, Canberra Furnished Accommodation, started in 2003 with herself and one property, as she and husband Matt also juggled family life with their first baby. Fifteen years later, the business now has 50 properties and a team of eight, with the whole family involved in the business which caters mainly to trade, corporate and tourist clients wanting short-term accommodation in the national capital.
"There's no real secret, just a lot of hard work, treating people well and staying true to your values,'' she said, of the business' longevity.
"Also, Canberra as a town, it's a great town to have a business in. The business community is very supportive, easy to network and make business friends in so you have people around you in similar situations.
"And of course, culturally, as an Aboriginal woman living on my traditional Ngunnawal lands, I do feel my ancestors watching over me, protecting me, supporting me and often nudging me in the right direction.''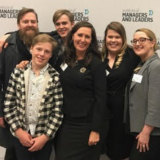 Laurie was 16 when she became homeless. She doesn't want to revisit the details but is happy for it to be acknowledged because it is another measure of her rise against adversity. She always valued home; always wanted a family.
She is having a 15th birthday celebration for the business on August 17.
"I think there's just a realisation it is a long time in business and especially for someone my age, early 40s, and I don't think anyone really does it on their own, there's always people in the background supporting you and holding you up,'' she said.
"There's people you can have open conversations with and who give you advice, just a little nugget that can change your direction.  There's also certainly a lot of hard work and resilience and an openness to constant learning and being willing to change your mind on things.''
Laurie and her family are regular visitors to Japan and it's from that country she has applied the principles of "Kaizen'' to her business.
"We've spent a lot of time in Japan over the years, 11 years we've been going there for our annual family holiday and we feel connected to the culture,'' she said.
"Kaizen is a word that translates as 'the art of continual improvement'.  That's a really strong business philosophy for me.''
The business has won multiple awards including a Telstra Business Award in 2013. Laurie was also named the 2009 ACT Business Woman of the Year by the Chamber of Women in Business and inducted into the 2016 Australian Business Women's Hall of Fame.
Her whole family is involved with Canberra Furnished. Husband Matt is the maintenance man. Nearly 16-year-old Connor works part-time in the business and Bailey, 13, "is always good at giving advice'', Laurie said, with a laugh.
"Connor did an internship over the school holidays. He assembled all the IKEA furniture, he looks after the after-hours phone to give the team a break at times. He's a significant contributor. It's sort of his part-time job but it's not an easy ride for him - if he doesn't work, he doesn't get paid,'' Laurie said. "He had to apply for his internship with Sarah, my general manager, and I had no part in it.''
Laurie said at this point in her career she felt proud and grateful.
"I don't think small business owners often stop and take in what they've accomplished and I'm no exception to this,'' she said.
"Holding an event to mark the occasion was something I set out to do to thank those who have supported me, but in the process it has made me pause and consider what I've achieved and I do feel quite proud when I think about it, especially considering where I started and where I could have ended up if I didn't stay true to my ideals. It does make me a little emotional. I guess.''
Megan Doherty is a reporter for The Canberra Times