Literary thriller that's a battle of wits and wills
Director Jordan Best said, "Patricia Highsmith was in real life an extremely difficult woman to pin down - some people say she was wonderful, supportive and kind; other people say she was Satan."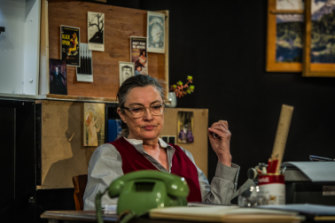 The American author Highsmith, whose books included The Talented Mr Ripley is one of the two characters in Joanna Murray-Smith's Switzerland. Best is directing the thriller for Canberra's Pigeonhole Theatre as part of the Canberra Theatre Centre's 2018 season. It opens on Wednesday night.
"She was a difficult woman - she didn't like people very much; she was a misanthrope," Best said.
But, Best said, there were admirable things about her, too.
"She lived her life completely on her terms at a time when it was unacceptable for women to forge a career; she was an out lesbian when that was not a thing you did".
Switzerland is set during Highsmith's later years when she lived a reclusive life in Europe.  Her books were far more appreciated as literature there than in her home country.
Highsmith, played by Karen Vickery, is visited by a young man, Edward Ridgeway (Lachlan Ruffy), who represents her publisher and has been sent to persuade her to write one last Ripley book.  She refuses and the scene is set for what Best described as a funny, quick and clever battle of words, wills and wits.
One of the underlying questions, Best said, is when does an artist retire, since it's not like a regular job where you can simply stop turning up to work.
"What makes you decide you're not going to do the thing you've been doing all your life?"
Vickery, whose career had included acting with the Sydney Theatre Company and lecturing at the National Institute of Dramatic Arts, her alma mater, said she had "a love/hate relationship with Ms Highsmith". She admired her talent, independence and cleverness.
"But she's also so full of anger and disappointment and spiky as all get out."
The Canberra-born, Sydney-based Ruffy, a graduate of the Western Australian Academy of Performing Arts, said of Edward, "He's a lot more cunning than he seems. He's got one job to do and won't leave before it's done. Everything she does to him he finds a way to use in his favour, all sorts of different kinds of abuse from Patricia Highsmith."
Best said she was working with "two of the best" in Vickery and Ruffy: "They're both so terrifically clever."
Vickery said, "When Jordan and I talked about who might do the play I said 'Lachlan Ruffy would be terrific' and she agreed: she really knew him well. It was a very, very happy choice."
Best and Vickery, along with Liz Bradley, are the artistic directors of Pigeonhole, formed to give more opportunities to female theatrical artists in Canberra. Switzerland is the company's third production and the first to be included in the Canberra Theatre Centre's season.
Best said, "Being in the season is so brilliant and clearly Canberra is interested - the response has been amazing."
Switzerland is on at the Courtyard Studio, Canberra Theatre Centre until July 14. Some tickets may still be available: canberratheatrecentre.com.au or 6275 2700.