Long Tan 50th anniversary: Guide to events, road closures at Australian War Memorial
A "stand-to" service similar to an Anzac dawn service and a national service are just some of the events to be held at and around the Australian War Memorial to mark the 50th Anniversary of the Battle of Long Tan on Thursday.
John Schumann is to perform I was only 19 there will be a flyover of Vietnam-era aircraft, including a B-52 bomber, and a four-gun salute between 10am and 11am.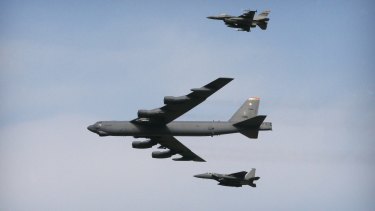 Thursday is also Vietnam Veterans Day.
Program:
5.30am: Vietnam Vale Roll of Honour readings in the commemorative area.
7am: Stand To Service at the Stone of Remembrance in front of the AWM.
7.30am: Breakfast in the Park for Vietnam Veterans and their families.
10am: National Service at the Australian Vietnam Forces National Memorial, to be attended by the Governor General, Prime Minister and Opposition Leader. Service will include the flyover and John Schumann's performance.
4.55pm: Last Post Ceremony in the commemorative area featuring the story of Second Lieutenant Gordon Sharp, to be read by Mark Donaldson VC.
Anzac Parade (both directions) between Constitution Avenue and Limestone Avenue/ Fairbairn Avenue
Anzac Park west between Currong Street and Constitution Avenue
Anzac Park east between Constitution Avenue and Blamey Crescent
Page Street at Anzac Park east
Amaroo Street at Anzac Park west
Booroondara Street at Anzac Park west.
10am to 10.30am
An exclusion zone will be set up at Rond Terrace shared paths as well as in the Central Basin of Lake Burley Griffin for the four-gun salute. Pedestrians and cyclists will be detoured around the exclusion zone.
Click on the link for more detailed information.
Buses
The 3473 and 3474 stops on Fairbairn Avenue and the 4663 and 4662 on Limestone Avenue will be closed from 6.30am to noon. There will be temporary stops in service on Treloar Crescent during these periods, serviced by the diverted ACTION route 10.
David Ellery is a reporter for The Canberra Times.