Lucky rains support planting canola in autumn
Agronomist Andrew Daley and grain farmer James Bowman are smiling at the silver beads of rain water dribbling down broad leaves of a new canola crop near Harden.
The gentle patter of rain and soft cries of sheep over the hills beyond burnt stubble paddocks are in sharp contrast to farmers' nervous calls to Mr Daley about whether to risk sowing during a bone-dry autumn.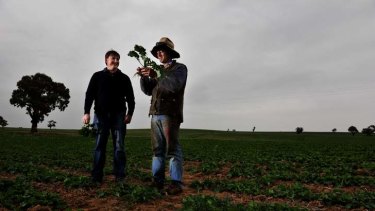 ''I usually sit on my arse in autumn, but I've had every farmer ringing, very indecisive. I just say, 'keep going','' Mr Daley said
''Ninety per cent of my farmers have put in crops.
''That extra 10 days you get from having it in early in the warmth, it makes a huge difference. Unlike out west, where some crops are not sown in a dry autumn, from about Stockinbingal (near Cootamundra) , the crops go in regardless.
''You are pretty well guaranteed some winter rain. You will get a crop of some sort. If you can't harvest it you get enough to at least cut hay.''
James Bowman is one of Mr Daley's clients confident enough to invest in a 450-hectare canola crop, which needs more nitrogen than wheat.
''We've been lucky,'' Mr Bowman said. ''We had five millimetres in a storm. Once the crop came up we knew we'd be right because the tap roots would get into the moisture.''
NSW Department of Primary Industries technical specialist Peter Matthews said no useful rain fell throughout most of autumn causing growers to either delay or dry-sow early season crops such as canola.
''This year most growers don't have any subsoil moisture, so moving forward, even if we manage to get the crop in and growing, it is high risk. We are going to be very dependent on rainfall through winter and spring.
''For growers who didn't dry sow, we see a lot of growers shift out of canola, and go for lower-risk crops like wheat and barley.''
The Bureau of Meteorology says there is a higher chance of a wetter than normal winter for south-east Australia.
But the bureau won't commit to either a wet La Nina or dry El Nino pattern, saying all atmospheric and oceanic indicators are showing neutral values.
Given the costs of fuel and fertiliser and threat of global warming, scientists question the long-term sustainability of broadacre farming.
Mr Daley and Mr Bowman believe growers in the Harden district de-risk crops by grazing stock on them and conserving moisture.
Better sowing technology that needs minimal tilling and relying on herbicides to kill competing weeds also helps.
Mr Daley said a new winter variety of canola needed 40 days of below 3degrees temperatures.
''That's all right, we had 50 frosts last year,'' he said.
Next week Mr Bowman will let out lambs on this canola crop, and expects them to put on 300 grams a day. Stock will feed on the crop until August, then it will be locked up until harvesting when it's chest height in December.
John Thistleton is a reporter for The Canberra Times.