Lucy Sugerman survives double elimination on 'The Voice'
It's another week down, another stunning performance over and another step closer to becoming The Voice for Canberra singer Lucy Sugerman.
Lucy survived a double elimination on the Channel Nine reality show on Sunday night, bringing a fun and energetic vibe to her version of Sigrid's Don't Kill My Vibe. It was a performance vocal coach Seal said showed why Lucy had become the nation's "it girl".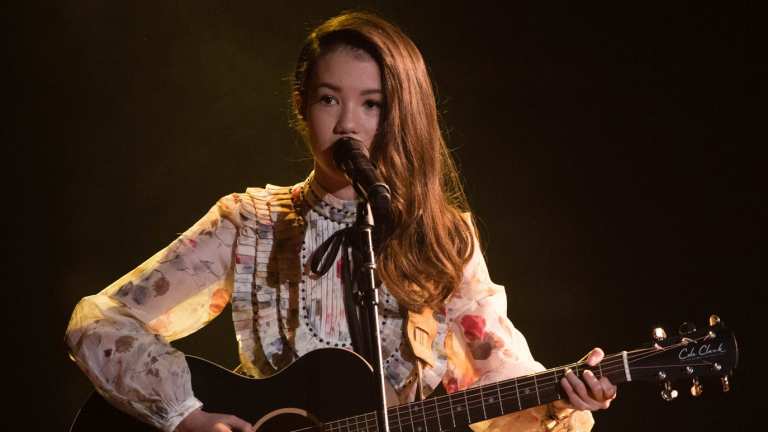 "Kids are looking up to you because you represent the dream," Seal said.
"I loved your performance. You showed why you're Australia's little star.
"You have this thing that makes us want to watch you and root for you."
Canberra has come out in force in support of Lucy, with piles of fliers outlining how to vote for the young singer being placed in cafes across the city.
It was the 15-year-old's sixth performance on the show, having stunned judges initially in late April with a blind audition that featured her own take on the 1969 Bowie hit Space Oddity. Since then she's performed hits by Elton John, Miley Cyrus and Sia, with and without her cherished Taylor guitar.
Lucy has been based in Sydney for the past three weeks, staying in North Sydney and attending daily rehearsals with Seal. She said support from the Canberra community has been "overwhelming", including support from her fellow students and teachers at St Clares College.
Lucy is now down the final eight singers in the competition and will perform live in the semi-final on Channel Nine next Sunday night. According to Lucy, vocal coach Seal "totally believes I can win this."
The twice national busking champion is now third-favourite with the bookies to win The Voice. According to sportsbet.com.au, Queenslander Judah Kelly is now the $1.90 favourite to win the singing competition, followed by 17-year-old native Kiwi Hoseah Partsch at $4.00. Lucy is third-favourite at $6.00.
Lucy will perform live on The Voice next Sunday June 25 from 7pm. Streaming Lucy's The Voice performance on iTunes at any time also counts as votes. Find Lucy on iTunes here.
Bree Element is the life and entertainment editor at The Canberra Times