Lucy Sugerman's dream run on The Voice Australia comes to an end
It was the kind of night a 15-year-old singer could only dream about - sharing a stage with global superstars Seal and Katy Perry, and standing among neon rainbows covering her all-time favourite artist.
But it was also the end of Canberra musician Lucy Sugerman's dream of winning Channel Nine reality show The Voice. Lucy lost out on the coveted title in a celebrity-packed two-hour grand finale on Sunday night.
Despite flawless performances of The Beatles' Lucy in the Sky with Diamonds (which she performed with vocal coach Seal) and Taylor Swift's You Belong with Me, Lucy missed out on the crown.
Rockhampton singer Judah Kelly, who was coached by Delta Goodrem, was named the winner of the 2017 series on Nine and awarded a recording contract with Universal Music and $100,000 in prize money.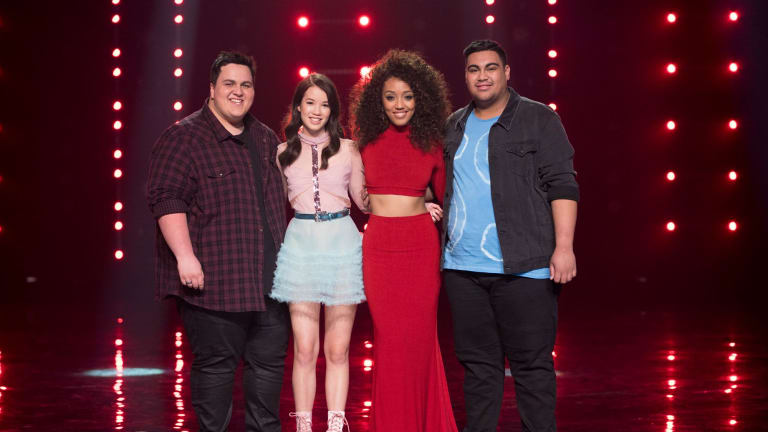 The other finalists were Fasika Ayallew and Hoseah Partsch.
It's been a phenomenal five months for the St Clare's College student, whose schoolmates and principal Brad Cooney appeared in a short pre-filmed clip during the grand final, wishing Lucy luck.
Lucy beat 4000 hopefuls to make it through to the blind auditions of the show in April.
Three out of four of the show's judges begged to have Lucy on their team, but the former national busking champion chose Seal.
Seal described his protégé as "a real national treasure" before performing their duet on Sunday night.
"Before I started The Voice I was performing to small crowds of people on the streets of Canberra," Lucy said.
"And now I perform for millions.
"I want to thank everybody back home in Canberra who tuned in every week and voted for me - your support has been incredible.
"And a huge thank you to Seal who has consistently invested in and advocated for me as an artist this whole time."
Lucy has been based in Sydney for the past six weeks, preparing for and recording live episodes of The Voice every Sunday night. But she's looking forward to returning to her own bedroom and her schoolmates.
"It's back to school, back to catching the bus and being a normal person," she said.
"But it's still all about churning out music and I think I'll have a busy period writing - I've been inspired by the show."
with Christine Sams
Bree Element is the life and entertainment editor at The Canberra Times