Macarthur House demolition under way to make way for 'urban village'
Demolition of office buildings on a key piece of land on Northbourne Avenue is underway to make way for a new "urban village".
The block, currently home to Macarthur House, which was used by ACT public servants, is set to be released to the market in 2018-19 as part of the federal government's asset recycling initiative where the ACT government is selling off some of its ageing buildings.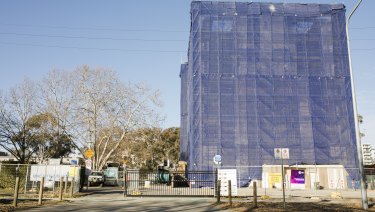 Bound by Wattle Place, MacArthur Avenue, and Northbourne Avenue, the block is the final parcel to be sold as part of the initiative.
In June, the government released two major blocks which were formerly the Northbourne Flats.  The combined 39,000 square metre blocks were put to the market as part of the ACT government's sale of land in the corridor to pay for its light rail project and encourage higher-density living near the city.
Last year, the government tried to hose down reports it was planning towers that could rise to up to 50 metres at the MacArthur Avenue intersection of Northbourne. In March, the Barr government released plans to lift height limits across the urban renewal precinct to allow up to 48 metres.
Director-General of the planning directorate Ben Ponton said the first stage of the demolition of Macarthur House was underway. He said hazardous materials were being removed and demolition was expected to be completed by early 2019.
The development on the site will be known as "Macarthur urban village", which Mr Ponton said would become a distinct destination on the light rail network. He said it would have small convenience shops, cafes and bring employment.
Mr Ponton said the site had great potential to complement the ongoing urban renewal in and around the city centre, including current light rail works and future development of the city and gateway corridor.
The currently eight- and three-storey buildings of Macarthur House are made of concrete, bricks and steel that will be reused.
"We have a target of recycling 95 per cent of the material that comes from the site. The recycling of these materials has been an important part of our planning," he said.
"During 2018, the community will see ongoing demolition works occurring across the site.
"Measures have been put in place to limit any impact on residents, including defined working hours, management of dust, restricting all contractor parking to the site, and truck movement routes."
Han Nguyen reports on property for The Canberra Times. She joined the Times in 2017 after working as a breaking news reporter at The Sydney Morning Herald.