We Will Rock You. Music and lyrics by Queen. Story and script by Ben Elton. Directed by Kelda McManus. Musical director Andrea Clifford-Jones. Choreography by Nikole Neal. PeeWee Productions. AIS Arena. Bookings ticketek.com.au or 132849. To November 10.
I am not an old rocker so I brought the earplugs and gritted the teeth but local PeeWee Productions' We Will Rock You turns out to be great fun and surprisingly enjoyable.
With the music of Queen and a quirky script by Ben Elton, it tells the story of a future Britain, where music and much else is suppressed. The evil Killer Queen (Queenie van de Zandt) and her smarmy offsider Khashoggi (Max Gambale) have the young well and truly ground down into conformity and homogeny.
The whole thing has refreshing overtones of British science fiction. Elton's script has its own idiosyncrasies but HG Wells and Dr Who are not very far away. (Nor is the American Flash Gordon, memorably driven in the 1980 film by Queen's music.)
Hero and heroine Galileo (Toby Francis) and Scaramouche (Erin Clare) resist and escape, finding the Bohemians, a subterranean group who are preserving a wonderfully garbled history of rock music. Galileo has prophetic dreams and Scaramouche has an irrepressible antenna for the truth. Between the lot of them there will be a solution.
Francis makes a nicely confused, idealistic and well sung Galileo. Clare is particularly strong in her singing and is the convincingly sardonic balance to Galileo's dreams. There's a Beatrice and Benedick quality to their arguments and she is refreshingly no stereotypical musical comedy heroine.
They are well supported by Dave Smith as the cheerfully mad Bohemian Brit and Samantha Marceddo as the irrepressible Oz. But it's David Cannell's wisecracking Buddy that lifts the energy and humour in an excellent performance.
Van de Zandt towers over her scenes as Killer Queen and Gambale is a nasty presence as Khashoggi. Both clearly relish playing and singing a pair of Ming the Merciless villains.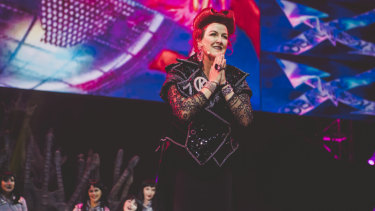 Nikole Neal's choreography keeps the show moving well and there's a strong supporting group of singers and dancers to provide the right ambience, whether it be the crisp conformity of the suppressed or the wild dreaming of the Bohemians. Anna Senior's costume designs run riot with the latter.
Phil Goodwin's lighting is full of the right bells and whistles for a rock opera. His set (with Chris Neal) is a happily functional multilevel affair with LED screens for imagery. There are even some pyrotechnics.
And behind the scenes is a rock band with the right old instruments led by Andrea Clifford-Jones in a riot of aural re-creation.
We Will Rock You is only here for a short season before it sweeps down to Wollongong for a couple of days next week. Old (and young) rockers would be mad to miss it.
And Bohemian Rhapsody? Just wait for it.