Majura Parkway to flank solar fields
We may be the national capital on the maps, but on the roads into Canberra we'll soon look like the solar city of the south.
The ACT government's ambitious renewable energy target has lured another solar farm to the territory, and construction of the Majura Parkway has created the location.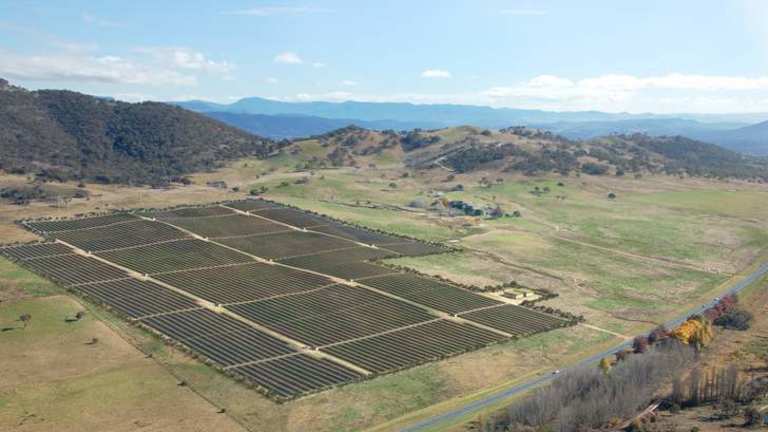 On 13 hectares leased by Mount Majura Vineyard, the new four-megawatt solar farm will sit on a traffic island created by the parkway's new alignment, on land deemed too frosty in cooler months for wine production.
Mount Majura viticulturist Frank van de Loo said a solar consortium was prepared to use the land even though it could be withdrawn for the eastern states high-speed train project.
''They [governments] are still retaining the withdrawal clause over the bottom of half of the property, presumably to facilitate a future fast train. So, we have land that is very hard to invest in or do much with because we have no security over it.''
Solar Choice, a brokerage firm which has developed and managed tenders for hundreds of commercial solar-power projects across Australia, including for BHP Billiton and McDonald's restaurants, is in partnership with developer Solar Fields to build the $4.5 million farm, which could open later this year, given planning approval.
It will be done in stages, with the first 2 MW on six hectares, generating about 3 million kW/hours of clean energy.
Several other solar farms are already either approved or proposed for Canberra.
Photon Energy Australia is proposing a 200kW solar farm near Mugga Lane quarry east of Mugga Lane.
Fotowatio Renewable Ventures plans to build a 20MW farm near the Monaro Highway at Royalla, south of Tuggeranong; while Beacon Hill Consulting is negotiating on a 2MW solar farm fronting the Monaro Highway at Tuggeranong near the proposed south Canberra cemetery.
ActewAGL has proposed a large solar plant at Williamsdale on the NSW border with the ACT.
At Majura, work is expected to take three months. PV modules will be laid out in arrays in 100kW sections, each array comprising 380 modules. Each 100kW array will have a small control shed. All up there are more than 19,000 modules. Two to three-metre-high shrubs and climbers will screen the rows of arrays from Majura Parkway and the eastern boundary along Majura Road.
A neighbour and Majura Valley Landcare Group founder Sherry McArdle-English said that if it was carefully planned the solar farm should work effectively with other rural pursuits.
It was another reason the ACT government had to prepare a master plan to guide collaborative development in the valley.
Solar Choice, which also operates in Britain, provides a quote service on solar. Managing director Angus Gemmell said they had helped 55,000 households take a transparent look at the solar-energy market.
''This is the first time we are developing and owning our own project,'' Mr Gemmell said. He said he was not too concerned about a high-speed train route, because there had been several proposed routes, and the farm would not occupy all the site.
John Thistleton is a reporter for The Canberra Times.