Man guilty of king hit that left Irish tourist with brain damage
A man has been found guilty of king hitting a middle-aged drunk Irish tourist in Civic, leaving him with brain damage.
Daniel Byrne, 21, stood trial in the ACT Supreme Court this week for allegedly punching Timothy McCarthy, then 40, in the head outside the Quick 'n Go convenience store on Northbourne Avenue about 5.30am on Sunday, July 24, 2011.
Chief Justice Helen Murrell handed down her judgment on Wednesday afternoon, finding Byrne guilty of recklessly inflicting grievous bodily harm.
She dismissed his argument that he was defending himself when he knocked out Mr McCarthy with one punch, causing him to fall back "like a plank" and smash his head on the concrete.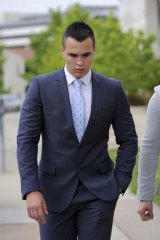 CCTV vision showed Mr McCarthy lying unconscious on the ground as Byrne walked away from the scene.
He was rushed to hospital with severe swelling in his brain, which began to prevent its ability to be supplied with blood.
A neurosurgeon who treated the Irishman said he would have died without urgent treatment, and had almost certainly suffered permanent cognitive impairment.
Byrne was arrested one day later day hiding from police in his garage, and was charged with recklessly inflicting grievous bodily harm.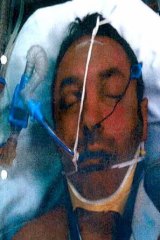 The 21-year-old had denied the allegations, saying he thought Mr McCarthy was about to punch him.
Byrne said he had been standing outside the convenience store with a group, when an intoxicated Mr McCarthy had approached them.
The Irishman had never met any of men, but began giving some of them hugs, including Byrne.
Mr McCarthy was giving one a "prolonged hug" when Byrne says he tapped him twice to get his attention and make him stop.
Byrne claimed Mr McCarthy had then turned to him and became aggressive, saying he was better than him because he was Irish.
He claimed Mr McCarthy then told him he wanted to fight, and to come into the alleyway.
Byrne said he had taken two steps back, before Mr McCarthy had again asked him to fight, while having his body braced and his right fist clenched.
His barrister, Anthony Hopkins, said Byrne then punched Mr McCarthy in an instinctive, split-second reaction to deal with the threat that had been facing him.
Mr Hopkins said the punch had been proportionate to deal with the threat Mr McCarthy posed.
But that was rejected by Chief Justice Murrell on Wednesday. She found all of Byrne's evidence, as well as that of his friend, to be unreliable.
She said Byrne could not have believed it was necessary to punch Mr McCarthy to defend himself.
Byrne was with a group of young men, and was facing an intoxicated, outnumbered man.
She said that even if she accepted Byrne's evidence, the only threat Mr McCarthy had posed was clenching his fist and bracing his body.
Chief Justice Murrell said the punch had not been an instinctive reaction, saying Byrne had had time to reflect on what he was about to do.
She found the punch was ''intentionally powerful'' and that Byrne had known that delivering it would cause really serious injury.
Crown prosecutor Shane Drumgold had earlier asked the court to reject Byrne's evidence, saying the accused appeared able to recall minute details in the seconds before the alleged assault, while suffering ''black spots'' in his memory of the rest of the night.
Chief Justice Murrell made similar findings on Byrne's evidence, describing it as ''completely unreliable''.
She said his memory appeared to be almost ''non-existent'' for most of the night, except for the moments outside the Quick 'n Go.
The judge acknowledged he was somewhat intoxicated, but said he must have been sober enough to be in control of his faculties, given he targeted the punch at the head, and was able to run at speed from the scene.
She said he either lied about his lack of memory of the rest of the night, or about the details of the moments before the assault.
Byrne was released on bail, and will be sentenced in February.