Man pretended to be girl on Facebook to blackmail boy for sex, court hears
A young man who allegedly used a fake female Facebook profile to blackmail and rape a Canberra teenager has been charged with sending video of the incident to other young Canberrans.
Billy Bartolomeus Tamawiwy, 22, pleaded not guilty to two charges of sexual intercourse without consent on Tuesday, when he again appeared before the ACT Magistrates Court.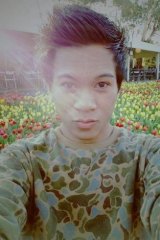 He is accused of setting up a fake Facebook profile in the name of Tayla Edwards, using pictures of women he found on the internet.
Tamawiwy allegedly sent a friend request to the victim, who accepted despite not knowing a Tayla Edwards, and the pair began messaging.
Police allege their messages became sexual and Tayla Edwards told him she was bisexual, and wanted to have sex with him, but only if he had sex with another man.
Prosecutors allege the victim was enticed into having sex with a man by promises of free drinks, cannabis, and sex with Tayla Edwards.
Tamawiwy is accused of using the fake Tayla Edwards account to set up a meeting between himself and the young man.
The complainant drank alcohol before the encounter, and was highly uncomfortable and asked to stop throughout.
The sex was filmed, and the complainant discovered some time later that he had been set up and tricked into having sex with Tamawiwy.
The defendant, an Indonesian national studying in the ACT, was charged with seven additional offences on Tuesday.
Prosecutor Phoebe Burgoyne-Scutts said some of those charges related to the sending of video to other young Canberrans.
Tamawiwy did not apply for bail, but did attempt to have his name suppressed. That application failed.
Chief Magistrate Lorraine Walker remanded him custody until October 21.
Prosecutors hope to finalise all the charges against Tamawiwy by that date. The court heard he might be charged with additional crimes.
He will also appear on November 2 to deal with the two charges he pleaded not guilty to on Tuesday.
Christopher Knaus is a reporter for The Canberra Times.