Marist Brothers to leave Canberra
Canberra's Marist Brothers community is to be disbanded by the middle of the year following the deaths of two members in the past 18 months and the appointment of a third to head a new community in Western Sydney.
Marist Brothers have lived and worked in the ACT since the late 1960s when Marist College Canberra was established.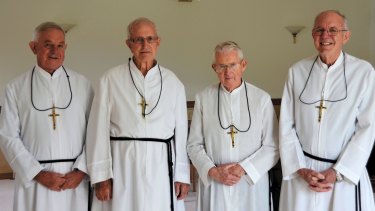 A spokesman for the order said the decision to close the community would not affect the running of the college which now operates with lay teachers and a lay principal.
"The Marist Brothers stress this decision (to close the community and relocate the remaining brothers) is entirely unrelated to the sad events that were the subject of the Royal Commission into Institutional Responses to Child Sexual Abuse)," the spokesman said.
"This brings to an end nearly half a century of the brothers' presence in Canberra.
"Marist College remains a significant member college of Marist Schools Australia and its role and operation is independent of the presence of a brothers' community."
In a recent letter to Marist College Canberra stakeholders, Brother Jeffrey Crowe, the head of the order, said circumstances had changed.
"We have had to make some hard decisions about where to keep communities," he said.
"Six communities have been closed around the country in the past five years with two new ones created this year.
"In the case of Canberra, we have had two deaths in the past 18 months and an additional challenge since we have invited Brother Lawrie McCane (the Canberra community leader) to be part of a new community initiative."
Brother McCane is to head a new community in Western Sydney that will work with disadvantaged youth.
The other three brothers are Brother Tony Shears, Brother Kevin Murray and Brother Anthony Atkinson.
Marist College Canberra headmaster, Richard Sidorko, said the decision to close the community was a sad moment in the history of the school.
"Having the brothers in the school, whether it be in teaching or by their being around spending time with people always lifted my spirits and reinforced in my mind just how privileged a role we all shared," he said.
"While the brothers will no longer have a community in Canberra our college is still very much a Marist Brothers school."
Planning is underway for a farewell function to pay respect to the departing brothers later this year.
The all-male college, which is in Woden Valley, has about 1600 students from years four to 12.
Mr Sidorko is the second lay principal in the school's 47-year history.
Prominent former students include Lieutenant General John Caligari, Chris Uhlmann and Paul McDermott.
David Ellery is a reporter for The Canberra Times.