Meet Matilda, queen of Eddie's heart
Today's ACTION buses have a sign on their flanks boasting ''Climate Controlled For Your Comfort'' but ''Matilda'', the 1949 AEC Regal Mark III Omnibus was never able to make such a boast. Riding with her in Canberra in her service heyday (from 1949 to 1959) exposed her passengers and her driver and conductor to all of the uncontrolled elements of Canberra's moody, machiavellian climate.
On Wednesday at ACTION's Belconnen depot, Eddie Carnall, born in Queanbeyan in 1924, was reunited with Matilda - exactly the kind of omnibus on which, from 1955, he served sometimes as a conductor and sometimes as a driver.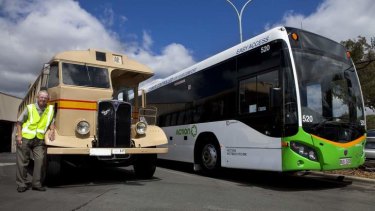 As part of the Centenary of Canberra celebrations Matilda is soon to waltz down to the Old Bus Depot Markets to be a part - the prima donna really - of a Back to the Depot display.
Carnall, president of the splendidly named Retired ACT Transport Employees Club, loves the old omnibus. Seated in her driving seat on Wednesday he crooned sweet nothings about her the way one might talk to a beloved retired horse.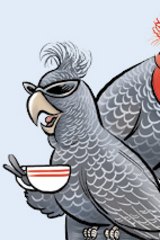 But he remembers how very cold she and her kinds of buses were in Canberra's winters when he was piloting them to and fro as early as 5.30am (to take nurses to their dawn shifts at Canberra Hospital).
''There were no heaters in the buses in those days,'' he reminded us from the driving seat, gesturing into the bare cabin quite uncontaminated by gadgets and comforts and furnished just with spartan seating for 39 souls.
And it was colder still, he reminisced, up the front in the driver's cramped little space. He would be rugged up in some giant overcoat and meanwhile, gesturing at his feet, ''the draught used to come up through the pedals there''.
When he started work on the buses in 1955 with the Department of the Interior he was a conductor but, as were several of his colleagues, he was licensed to drive the buses as well. And so on typical days one of his mates might drive the bus in the morning and then he, after a morning spent conducting, would drive it in the afternoon while that morning's driver collected the fares. There was no way a driver could be a conductor as well at the same time (as happens today) because the driver was sequestered in a little box.
It was a very simple box by today's standards. Those who inspect the cabin on display day will marvel that the driver had only two gauges to look at and no buttons and knobs.
''You had to be very slow in changing gear,'' Carnall recalls. ''While you were waiting in neutral you pretty well had time to hum a tune before you put it into the next gear. It was a crash gearbox. You couldn't go straight through. You'd have to wait until the revs died down and then put it in the next gear. They were a beautiful bus to drive. I think it was the simplicity of it.''
To him the old buses like the spruced-up Matilda looked beautiful too, and he wishes they were still out there at work, their sheer good looks delighting all who see them. On Wednesday Matilda was elegant in her 1950s livery of what's officially called ''Canberra fawn'' with a dashing stripe of red and canary yellow and a coat of arms. Parked at Belconnen on Wednesday next to a modern ACTION bus (and dwarfed by it because she, the petite Matilda, is only 27 feet, six inches long - that's 8.4 metres - and eight feet wide) she did somehow radiate twice the personality and charm of the state-of-the-art green and white omnijuggernaut.
Inside, though, she is a little bleak. Being inside is like being in the small chapel of a denomination, perhaps an extreme branch of the Presbyterians, committed to the unostentatious life. Her seats are like the plainest pews.
Carnall's 1950s days with buses like Matilda in a city of 20,000 souls might begin at 5.30am and on some days would end at midnight when, as part of his run of picking people up from the picture theatres at Manuka and at Civic, he'd deliver the last of the movie-goers to their homes at Fairbairn RAAF base.
''Then sometimes at the Albert Hall you'd have six buses lined up, as late as 1 o'clock or 1.30 in the morning, to take people home from dances.''
He begins to muse as he sits at the steering wheel.
''Yes, this is sentimental all right. It brings back a lot of memories. She's a wonderful old girl. I love her.''
Canberrans will soon be able to inspect this vision in fawn, this six-cylinder, 7.7-litre, diesel-sipping object of Eddie Carnall's affections. Matilda will go a'waltzing from her depot and go on display at The Old Bus Depot Markets in Kingston from 10am to 4pm on Sunday, March 10.
There she will be part of the aforementioned Back to the Depot display organised by the Retired ACT Transport Employees Club, whose members say that they like to think of this as Matilda ''coming home'' to the depot where she used to lodge and be serviced.