Meet the union man set to replace Katy Gallagher
Now that the High Court has ruled Katy Gallagher was ineligble for parliament, she is set to be replaced by a Canberra union man.
So who is David Smith, the man most likely to take Ms Gallagher's seat?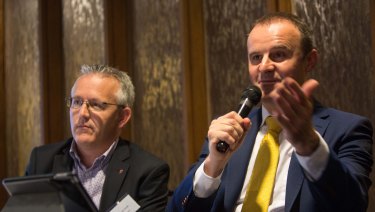 After revelations six months ago that Ms Gallagher was a dual citizen at the 2016 election, Labor had been waiting since a court hearing in March to find out Ms Gallagher's future.
Wednesday's decision against her may not lead to a long stint outside parliament, however, as Labor is preparing to preselect its candidates for the Senate and lower house later this year.
The High Court's decision also casts doubt over the futures of Labor MPs Susan Lamb, Justine Keay and Josh Wilson in parliament after they faced dual citizenship questions, while South Australian MP Rebekha Sharkie was advised last year to refer herself to the High Court.
But in the immediate future, someone will have to step in and fill the void left by the Labor stalwart former ACT chief minister.
Currently the ACT director of Professionals Australia - the union representing high-level professionals such as scientists and engineers - Mr Smith was not answering calls on Tuesday afternoon, and, like his fellow Labor members, was unlikely to speculate on Wednesday's outcome.
A long-time member of the Labor movement, Mr Smith was second on the ACT Labor senate ticket at the 2016 federal election, hence his heir apparent status.
He is also the branch's right faction convenor, while Ms Gallagher is from the left, a fact that might upset the party's factional representation in the chamber.
A lifelong Canberran, Mr Smith completed his schooling at Marist College, and graduated with honours in arts at the Australian National University in 1993.
Since then, he has worked his way up in the Labor movement, as an advisor in the Department of Employment and Workplace Relations, industrial relations manager for the Australian Federal Police Association, and policy advisor in the Chief Minister's Department under Jon Stanhope.
Mr Smith has previously confirmed that he was was eligible to serve in Parliament.
After running for the Senate unsuccessfully in 2004, he told Fairfax Media in December, he decided to run in 2016 following former defence minister David Johnson's description the public sector workforce as "fat and happy".
There is speculation Ms Gallagher could run for one of the lower house seats if ejected from the Senate, but she may have to wait only until August for Labor preselections for lower and upper house candidates, a month after new boundaries for a third ACT electorate are finalised.
Former chief minister Stanhope, to whom Ms Gallagher served as deputy and political protegee before her ascent to the top job in 2011, said he believed Mr Smith would be competent in the role.
But he added that should Ms Gallagher decide to return to the senate, Mr Smith would do the honourable thing and stand aside.
"I think in the context of the circumstance and the steps that Katy took to renounce her citizenship, and if the circumstance of David's ascension to the position should transpire, my expectation and hope would be that David would do the right thing," he said ahead of the court's decision.
"[I would hope] that he would make it very clear that he was there very much as a caretaker and should Katy wish to return to the Senate, I would expect him to announce that on the day that he took the seat."
Ms Gallagher's fate rested on the question of whether she took sufficient steps to renounce her UK citizenship in time for the 2016 election.
Documents provided to the Senate in December showed she was "at the date of her nomination for the 2016 election, a British citizen by descent" and that her moves to renounce in April 2016 took until August 16 to be completed by UK officials.
The court ruled on Wednesday that Ms Gallagher was not eligible to be a senator.