Melissa Doyle back in Canberra to share stories of her life
A new sunrise
Former Canberra girl and much-loved television presenter Melissa Doyle will be in town this weekend at the National Library of Australia to promote her new book, Alphabet Soup.
The book is scattered with anecdotes about life as a woman and a working mother, and some highlights from her career.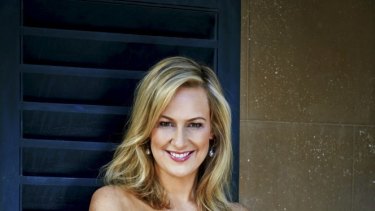 Unlike some of the other celebrity books on the market these days suggesting in no uncertain terms how you should live your life, Melissa says it's not her style to preach.
"I think for me it was more about wanting to share my experiences because I really want to say to other women, I think we're all doing our best," she said.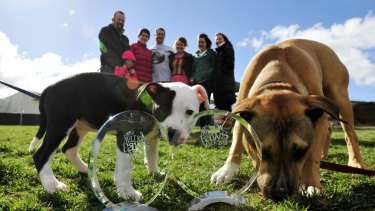 "Something as women I think we think we're the only ones trying to make it all work and not succeeding and I don't think that's a healthy thing."
Having left Sunrise in 2013, Melissa is now spending a lot of time on the road, covering events all over the world.
"The thing I love most is bringing events to people live as they unfold. I've has some extraordinary opportunities this year, standing outside the jail in Bali as Schapelle was released and I just got back from the royal tour," she says.
"I also went over and did the Oscars and covered the Syrian refugee crisis last year."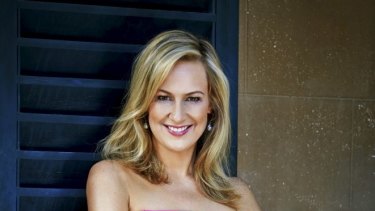 And while she misses her old gig, she says she no longer has a need for her old friend, the trusty alarm clock.
"I don't set it anymore. I get to 6:00 and it's a three hour sleep in. I now get to get up and get the kids off to school."
Mel Doyle will be talking about her new book, Alphabet Soup, at the National Library of Australia on Saturday May 10 at 1:30pm. Tickets $15 from nla.gov.au.
Wedding bells in the vines
Ring the bells – the winning couple of the $30,000 Spring Wedding Giveaway has been announced by OutInCanberra. Twenty-one couples battled through a series of stages, with the public voting for their favourite, with Julie Marshall and Alex Mills winning the wedding of their dreams.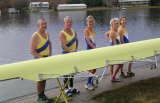 Julie says they are both still in shock about the announcement, and were overwhelmed with the support they had received.
"Alex was joking that we felt like we were campaigning for the Senate," she said.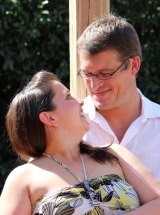 The couple met nine years ago at work, and flirted by throwing paper over the partition. After a romantic proposal aboard a hot air balloon in September last year, the couple is set to marry almost exactly a year later on September 5 at Flint in the Vines.
"I'd always pictured it with all my family and friends in one spot witnessing me marrying the man of my dreams," she said.
The bonus is we'll both have our kids there which is really amazing."
We'll be keeping an eye on them on the lead up to their big day!
All for Jim Jam
Gordon couple Sheila and Mark Lynch faced tragedy in early 2013, when they lost their daughter Jamie-Leigh in a car crash.
To honour Jamie-Leigh's passion for animals, the couple along with their daughter Sally took part in the 2013 Million Paws Walk, raising much needed funds for sick and abandoned animals in the ACT.
The Lynches raised more money than any other team in Australia, securing the honour of the first time a team in the ACT had done so – and this year they look set to do it again.
Affectionately called Team Jim Jam in honour of their beloved Jamie-Leigh, the family will again take part in the Million Paws Walk, which is on at Lake Burley Griffin on May 18.
The much-loved event raises money for the RSPCA in Canberra.
Mark says that Team Jim Jam's donations have just passed the $9000 mark, but another team from NSW is threatening to take the lead.
The family is hoping to bring in some last minute donations to bring the title to the ACT one again.
To support Team Jim Jam visit everydayhero.com.au, and search for "Million Paws Walk" and search for Team Jim Jam.
Making a splash
Today the Canberra Rowing Club celebrates its 50th birthday, having been the second established in Canberra following the filling of Lake Burley Griffin in 1964.
The club will celebrate with a 300-metre sprint regatta in Yarralumla Bay and brunch in the morning, followed by a black tie event at the National Portrait Gallery at night.
The club boasts an impressive array of international representatives, including world and Olympic champion Megan Marcks, Olympic bronze medallist Robyn Grey-Gardner, and world champions Adair Ferguson, James Galloway, Liz Moller and Bruce Hick.
Winter wellness weekender
There's nothing like the start of winter to make us all feel a bit bla, so an event all about wellness is just what the doctor ordered.
Having met through a blogging group, Canberra holistic health coach Suzzi Hartery, pictured, and body love and wellness coach Tegan Westra are combining their powers to run Nurture and Nourish Event – an afternoon dedicated to nourishment and self-love on May 25.
Suzzi says the event is tailored for women who are feeling stuck, uninspired or lonely, or even who just want to find other women with a similar mindset.
"The wellness world is becoming big but a lot of women aren't understanding what it all means," she says.
Held at Bikram Yoga Canberra in Mitchell, the event features cold pressed juice, inspirational talks, group meditation, and either a yoga session or a raw food demonstration.
Tickets are $68 + booking fee from teganwestra.com.
Private Capital arrival
Congratulations to Private Capital's Megan Doherty and her husband Mark who welcomed Louis on Monday night.
Just as handsome as the recent royal bundle of joy to visit our shores, Louis joins older sister Maggie.
Megan's a wonderful fixture at The Canberra Times, and I will do my best to fill her shoes while she takes well-deserved maternity leave.
What's on
Step back to the good old days with a movie matinee of the Agatha Christie Classic, Murder on the Orient Express at Tuggeranong Seniors Centre.
Tickets are $4 for Tuggeranong 55 Plus Club members, or $7 for non-members, which comes with a complimentary ice cream and bottle of water. Bookings on 6293 4004 or tugg55plusclub@gmail.com.