Michael Pezzullo calls sacking of Roman Quaedvlieg a 'sad day' for Border Force
The day after Australian Border Force Commissioner Roman Quaedvlieg was sacked, Home Affairs secretary Michael Pezzullo sent a memo to all staff saying Quaedvlieg should not be judged for the way his career ended.
In a memo sent on March 16 to all Home Affairs staff and seen by Fairfax Media, Mr Pezzullo said it was a "sad day" for the organisation - and for Mr Quaedvlieg and "his loved ones and friends".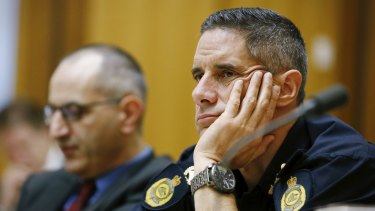 "I should like to acknowledge that yesterday was a sad day - for the ABF and the Department at large, but especially so for Mr Quaedvlieg, his loved ones and friends, and those individual members of staff who might have worked closely with him, and who are feeling today a sense of personal impact," the memo said.
The memo was largely sympathetic to Mr Quaedvlieg, who was booted from his role as the first Australian Border Force Commissioner after a review found he had helped his partner get a job at Border Force and that his conduct "went beyond an isolated error of judgement and ultimately undermined his capacity to continue in the office of ABF Commissioner".
Mr Quaedvlieg stood down from his role in May last year as he was investigated by the Australian Commissioner for Law Enforcement Integrity, with a further investigation led by secretary of the Department of Prime Minister and Cabinet Martin Parkinson. Throughout the investigations and after he was dismissed, Mr Quaedvlieg repeated denials over the accusations.
The government statement on Quaedvlieg's conduct said he had not complied with the Australian Border Force Act and had "acted at particular times to modify policies relevant to recruitment processes so as to advantage, at least in substantive part, a particular candidate for ABF employment".
He also "engaged in acts, and made omissions, which materially advantaged that candidate over other comparable candidates".
He also failed to disclose the relationship with the woman for the purpose of his security vetting. Despite all this, Mr Pezzullo told Home Affairs staff that the outgoing commissioner should not be judged "through the lens of most recent events".
"Roman has had a distinguished career in law enforcement and national security and we should not judge his achievements through the lens of these most recent events,' he told staff.
"I was looking forward to working with him for many years to come in pursuit of a goal that we both share and about which we feel passionately - protecting our nation and its people, while contributing to its economic prosperity and social cohesion."
The secretary said he couldn't comment on the termination "beyond noting the statement of grounds that were tabled in the Parliament yesterday, and confirming to you what I have already said in public to a Senate Committee".
Mr Pezzullo said staff should support acting commissioner Michael Outram.
"I would ask you all to focus on our common purpose and mission, and especially to support Michael Outram and his leadership as they focus on operational excellence, ABF professionalism, culture and values and - above all - serving their nation, which they do day and night without flagging or failing us in terms of the larger goal."
The Department of Home Affairs was contacted for comment.
Sally Whyte is a reporter for The Canberra Times covering the public service.