More than 100 Fluffy homes now owned by the government
With more than 100 Fluffy homes now in government hands, Chief Minister Andrew Barr has stepped up his pressure on the owners holding out on the mass buyback.
With pilot demolitions of five Fluffy homes expected in late March, the government's offer to buy homes at market value ends on June 30. It is unclear what happens to owners who have not signed up by then, but the government has previously threatened compulsory acquisition and Mr Barr said any post June 30 offer would be less generous than the one on the table now.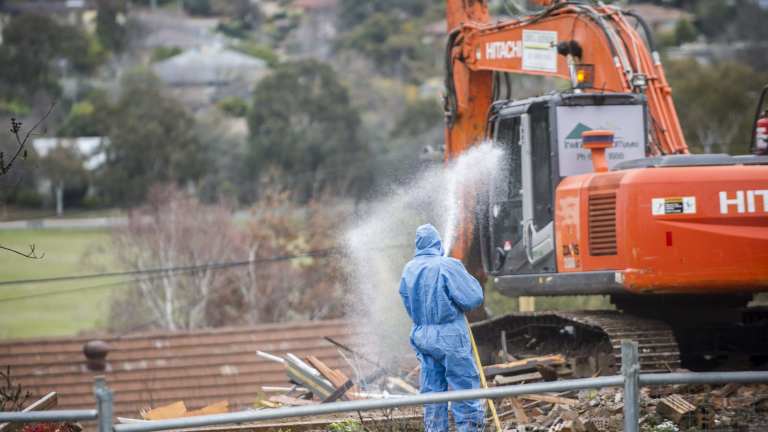 "If there are home owners who are holding back with a view that the Government offer might get better, then I need to be clear that it won't," he said in a statement. "This is at the edge of affordability for the territory this offer."
Mr Barr did not elaborate on what would happen to residents who held out past the deadline, beyond saying they would have "missed the buyback" and would have to have an asbestos management plan in place.
Residents who don't sign up face having their addresses published when the government releases the list of Fluffy homes in the last week of June, and a range of onerous modifications to their homes to seal off the ceiling and wall spaces, including sealing all light fittings, fans, heating and cooling systems, vents, and gaps in floorboards, steps or decks, even garages where they access the subfloor.
When the ACT government purchases a property it door knocks and provides information regarding the status of the property to neighbours (including those at the side and back of the property). So neighbouring residents of purchased homes are aware of the status of a property.
A spokeswoman for the Asbestos Taskforce said five properties were to be demolished in late March, two of them public housing. Tenders for the demolitions were still being finalised with no timetable beyond the pilots yet.
Mr Barr said of the 1021 Fluffy owners, 470, or nearly half, had accepted the buyback offer. Another 211 had received an offer. In all, 869 had opted to have their properties valued.
The 104 homes in government ownership are spread around the city, most in the southern suburbs. Thirty-eight are in Woden and Weston Creek and 19 in Kambah and Wanniassa. Thirty-two homes are in Belconnen and the remaining 15 in the inner south and inner north. The taskforce would not release a more detailed breakdown of how many there were in specific suburbs, but said when the government bought a home it doorknocked neighbours, including those at the side and back, to ensure they were aware of its Fluffy status.
The government says it owns Fluffy houses in the following suburbs: Forrest, Ainslie, Downer, Griffith, Hackett, Narrabundah, O'Connor, Watson, Yarralumla; Kambah, Wanniassa; Chapman, Chifley, Curtin, Duffy, Farrer, Fisher, Garran, Holder, Hughes, Lyons, Mawson, Pearce, Rivett, Stirling, Torrens, Waramanga, Weston; Aranda, Charnwood, Cook, Evatt, Flynn, Giralang, Higgins, Holt, Latham, Macgregor, Macquarie, Melba, Page, Scullin, Spence, Weetangera.
Mr Barr continued to insist there would be no changes to the scheme, despite a group of owners still fighting to keep their homes. It will not fundamentally change," he said. "I have said previously, I remain confident that the current program is the fairest, most responsible and affordable response available."
While the long term plan for homes not in the buyback had not been finalised, ultimately, all the homes must be demolished, he said.
Kirsten Lawson is news director at The Canberra Times