More than $200,000 spent on bollards at new Social Services building
The Department of Social Services has spent $236,000 on installing bollards around its new building, saying it is a necessary security measure.
The new headquarters for the department, opened last year and last week named after Dame Enid Lyons, cost $172 million overall, including what looks to be a hefty price tag for the security measure.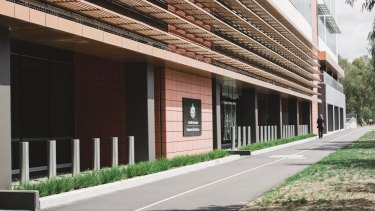 According to AusTender the department is spending $236,133.70 with Australian Security Fencing on building construction. A department spokesperson confirmed that the contract is for the new national office building.
"The supply and installation of steel anti-ram bollards are for the new Department of Social Services National Office," the spokesperson said. "This is a security measure."
The department did not specify what risks had been identified to make the spending necessary, but said they were part of normal security measures.
"Consistent with normal security practises for Australian Government buildings, static security bollards are being installed on the remaining perimeter of the department's premises at 71 Athllon Drive Greenway," the spokesperson said.
"This is a continuation of the existing perimeter static security bollards already in place, and the additional bollards will be similar in style and nature."
Security expert Roger Henning said the price tag is not as high as it seems to those outside the industry, and that installations such as the bollards were important. "I would totally endorse the investment," Mr Henning, who is executive chairman of Homeland Security Asia/Pacific, told Fairfax Media.
"The reality is government buildings and facilities are potential targets for terrorists and people who are disturbed and people who have a grudge," Mr Henning said.
"The professionalism that involves the protection of government facilities in Canberra is spot on, there's always a need to constantly review physical protection."
The new building houses 2,500 staff, and it was announced last week that it would be named after Enid Lyons, the first woman elected to the House of Representatives in 1943, and the first woman to sit in a federal cabinet.
The building has already been a source of controversy due to grey water vapours entering air conditioning in one section of the building, with staff reporting sore eyes and a foul smell.
Sally Whyte is a reporter for The Canberra Times covering the public service.