ACT Health has spent almost $5 million to improve the flow of patients at Canberra Hospital and the new University of Canberra Hospital Rehabilitation Hospital.
The $4.75 million contract signed with health IT business Alcidion will see the installation of an Electronic Patient Journey Board which is hoped to cut down the average stay of patients in hospital.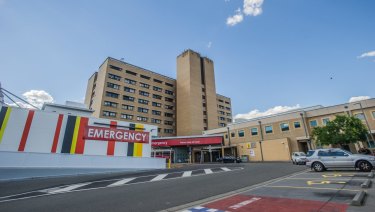 The technology has been licensed territory wide and will initially be rolled out at more than 800 beds at the Canberra Hospital and the new University of Canberra Hospital.
It will highlight risks as well as notify clinicians to ensure changes to patients' health, and any impediments to patient flow, are managed before they impact length of hospital stay.
It will be rolled out at the two hospitals over the next six months.
The dashboard-based software will highlight risks as well as notify clinicians to ensure that changes to patients' health are managed correctly.
It comes after the Canberra Hospital was last week singled out as having dangerously deteriorating conditions in the emergency department, largely due to poor bed flow and availability throughout the rest of the hospital.
Australasian College for Emergency Medicine said an increasing number of patients were staying in emergency for more than 24 hours due to flow and capacity issues within the hospital.
The contract includes an initial services payment to Alcidion of $629,000 for installation, customisation, implementation and training.
It comes after ACT Health put out an initial tender for new digital flow technology in September last year.
ACT Health's chief information officer Peter O'Halloran said Canberra Hospital currently had only rudimentary systems to electronically manage patients' flow and care.
He said doctors and nurses managing patients' care would now be able to get all the information they need on a simple dashboard instead of checking multiple systems.
Mr O'Halloran said he expected patient flow at Canberra Hospital to significantly improve when the system was fully functional.
"It will improve clinical care for patients but the aim is to also speed up the time it takes to provide various procedures and results and spend less time in hospital," he said.
"This solution is a key element in the delivery of patient-centred care enabling digital capabilities that will improve the delivery of health services to our patients and provide our clinicians with modern integrated technology tools."
The technology incorporates different software to combine data from bedside observations and patient assessments and clinical handover notes to give clinicians real time data.
Alcidion's CEO Kate Quirke said customer demonstrations of the new technology had so far been encouraging.
Daniella White is a reporter for The Canberra Times with a special focus on health issues