Multicultural Festival the hottest event in town, literally
If you're heading to the Multicultural Festival this weekend take a hat and sunscreen, as Canberra's weather is forecast to be hot, dry and windy until at least next Thursday.
The weather will heat up from Friday, with temperatures expected to reach 34 degrees - beginning yet another week of forecasts consistently above 30 degrees.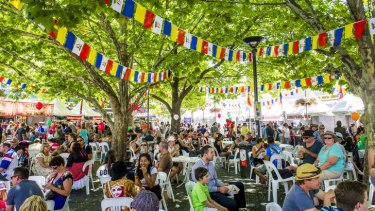 The heatwave is expected to peak on Sunday, with a sweltering 39 degrees forecast for the last day the Multicultural Festival.
Organisers will be taking steps to ensure people can stay safe and cool during the festival, including handing out 18,000 bottles of water to patrons.
Sunscreen stations will be available at information stalls, shaded areas have been set up for revellers and reusable drink bottles will be handed out.
In addition, seniors hubs will be set up on Saturday and Sunday so elderly Canberrans can take a break from the festivities and enjoy free water, shade and seating.
Festival Director Nic Manikis said the 2014 National Multicultural Festival will be the hottest event in town, in every sense of the word.
"We want people to come down to Civic and enjoy the best celebration of multiculturalism in the country, but we also want them to take care of themselves," Mr Manikis said.
Weatherzone Meterologist Josh Fisher said the temperatures for February had been well-above the monthly average so far and were unlikely to cool down for quite some time.
Canberra is also likely to stay dry till at least the middle of the month, with just 1.8 mm of rain falling in the first week and no more forecast in the near future.
"We are sitting well below the monthly average and with the next week being almost completely dry we'll have a lot of catching up to do later in the month," he said.
Mr Fisher said the hot temperatures could stick around well past the current seven-day forecast.
ACT Chief Health Officer Dr Paul Kelly urged Canberrans not to ignore the health risks associated with extreme heat and to take precautions.
"If you're attending outdoor events such as the National Multicultural Festival this weekend take adequate precautions to limit the impact of the hot weather," he said.
"Take plenty of water and limit the amount of coffee and drinks containing caffeine or alcohol as these can have a dehydrating effect."
ACT Ambulance operations manager Jim Tierney said ambulance personnel would be assisting St John's first aiders to keep an eye on people during the festival.
He said revellers should ensure they wear sunscreen, dress appropriately and watch out for other patrons who might be suffering from from the heat.
"They just need to make sure they slip, slop, slap, wear a hat and don't unnecessarily stay out in the sun," he said.
"Be observing other people around if someone looks like they might be touched by the heat, bring it to someone's attention. Be a good Samaritan."
Ben Westcott is a reporter at The Canberra Times.