Mum, fret, and tears: the start of class and the end of an era
Tiarni Mara was woken early by her older brother Aiden on Monday morning. It was her big day.
Out of bed early, and, guided by eight-year-old school veteran brother, Tiarni ate her breakfast, brushed her teeth, and obediently refrained from turning on the cartoons.
Mum Rose helped the five-year-old into her uniform for the first time, and admitted to shedding a few tears the night before.
They've been the dynamic duo, spending days up until now going out shopping, or baking, or just hanging out at home.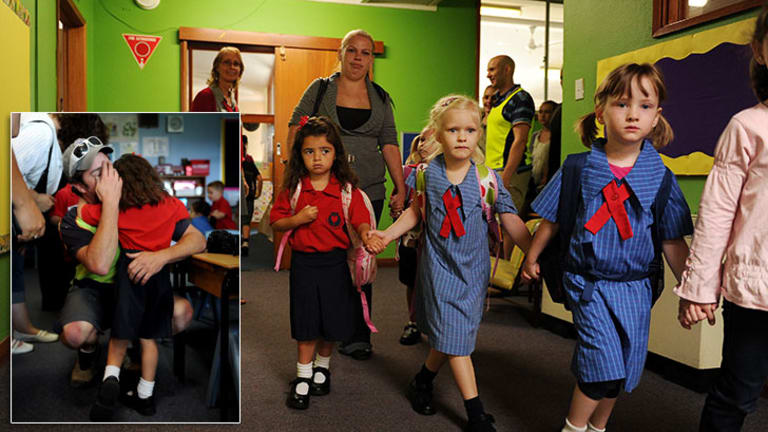 "Since she was little, I've just enjoyed her – she's really easy," Mum said. "[But] this is it, I'm on my own now.
"Bets are on me to cry first."
Dad Sean came home from his job as an electrician to help Tiarni pack her brand new lunch bag with a jam sandwich and some fruit, and together the four of them jumped in the car for the short trip to Curtin Primary School.
It was a situation mirrored across the ACT on Monday as about 5200 children (and their parents) readied themselves for the first day of kindergarten.
As the first bell rang at Curtin, and children and parents shuffled into the school hall to be divided into class groups, the first nerves began to appear.
"We think it is a good idea to stay for about 20 minutes or 30 minutes while your child settles in," parents were told. "Then say a cheery goodbye ... see you this afternoon."
Gripping the hands of her preschool friends and with parents hovering nearby, Tiarni helped lead the way, with more than a little trepidation, to their new home for the year.
But once inside, not even the pre-arranged activities ready to distract could stop the anxiety from growing. Tiarni and her new classmates crowded at tiny kindergarten tables laden with PlayDoh, colourful blocks, mini whiteboards and textas. Parents milled hesitantly around the edges.
As the 30 minute mark approached, Tiarni's longing glances became more frequent. But when the time came to leave, the tears weren't from the five-year-old, but from Mum.
"I didn't expect her to get nervous," Rose said, wiping at her own wet eyes. Even Dad's bravado looked close to breaking: "I don't like seeing anyone cry," he says, before reverting to "she'll be right."
As parents filed through the classroom door, there was a moment or two spent loitering just outside, wiping away the held-back tears, looking back in, and steeling for that final letting go.
But as one an era of parenthood ends, another one begins. With both children now at school, Rose said she'll probably start looking for work – after a few days of sunbathing, reading, and going for walks.
Out in north Gungahlin, it wasn't just the students wide-eyed enjoying their first day at a new school – the first day in the ACT also meant the opening of the $30 million Franklin Early Childhood School.
The new facility will cater for about 300 students from preschool to year 2, and also includes a 120-place childcare centre. It will provide schooling and childcare for young children from birth to year 2.
In addition to the estimated 68,000 Canberra students heading to school for the start of the academic year, more than 400 new teachers have also started in permanent of casual employment in the ACT public school system.
Morning & Afternoon Newsletter
Delivered Mon–Fri.