Music at Midday celebrates 25 years of entertaining Canberrans
For 25 years, the Royal Military College Band at Duntroon has brightend thousands of people's lives with Music at Midday. This concert series at the Canberra Theatre Centre presents a wide variety of music for public enjoyment - and it's free. Through donations made at the concerts, it's also raised a total of more than $400,000 for dozens of charities over the years.
Music at Midday was started in 1993 by the band's then officer commanding /music director, Major Ian McLean, as a way for it to move beyond its military and ceremonial functions in order to heighten engagement with the people of Canberra.
He says, "The army director of the time ... wanted me to get the band outside in the public eye."
McLean was the right man for the job. He had previously started a
Music at Midday concert series with the 1 Recruit Training Battalion Band in Wagga
Wagga. He worked with the city council there to present monthly concerts
in the Civic Theatre.
To get Music at Midday up in Canberra, the band needed a venue. McLean had an idea.
He had been conducting productions mounted by the Canberra Theatre Trust such as Anything Goes and The Pirates of Penzance. and asked the Theatre Trust's general manager at the time, Malcolm Leach, if the theatre could provide space for the project. It was good timing.
"The theatre was trying to promote their public image and give something back to the community."
So Music at Midday had a home - and the theatre also provided technical and front of house
staff time, necessary infrastructure and publicity.
Back then, the 45-piece band - brass, woodwind, percussion, but no strings - presented a concert every month, at midday . The repertoire ranged from traditional band music such as marches to classical music, film scores and popular songs old and new and still does.
One of the intentions was that workers in Civic could bring their lunches and enjoy the music while eating but over the years the audiences have tended to skew older - somtimes busloads of senior citizens come - and the concerts have been cut back to a few times a year. But they proved so popular the band had to move from the old Playhouse - where demand was so high concerts soon had to be done two or even three times - to the larger Canberra Theatre. Eventually the concerts were always scheduled to have two performances, at 11am and 12.30pm.
McLean decided to include a guest artist in each program for variety and to give some local performers exposure.
"The Idea of North had one of their first ever public engagements with the RMC Band at Music at Midday," he says.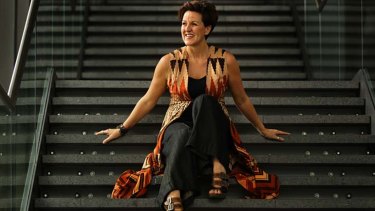 Musical theatre and cabaret artist Queenie van de Zandt appeared with the band as a young singer and so did Queensland Opera performer Susan Ellis. Local actor Dick Goldberg, who played Tevye in a production of Fiddler on the Roof in 1993, performed the song If I Were A Rich Man at one of the first year's concerts and did it again in 2018, a quarter of a century later, to celebrate 25 years of Music at Midday. Local companies have used it to promote musicals and concerts.
The title Music at Midday may no longer be strictly accurate, but the intention is the same as always. McLean says he loves the concept of Music at Midday because "no one is taking and everyone benefits from it" - the band, the guest artists, the audience, the theatre, and the charities.
McLean left the band in 2001 to move to Melbourne for his career and returned to Canberra, but not the band, in 2009. He conducted half of the recent concert for the 25th anniversary featuring music from its first year.
McLean was invited back by the band's officer commanding /music director since January this year, Major Glenn Rogers.
Rogers says 2018 marks not only the 25th year of Music at Midday but 50 years of the Australian Army Band Corps, wben the bands were taken out of the battalions.
He enlisted into the Australian Army Band Corps in 1984 and was posted as a musician and staff arranger to service bands located in Wagga Wagga, Canberra and Melbourne, among other postings. During his time in Canberra, he completed a Graduate Diploma in Jazz Arranging and Composition at the Australian National University. He did a band officer course in Melbourne in 2001.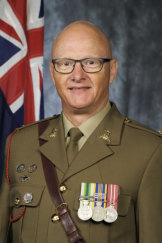 Rogers was in the band as a trumpet player for most of the 1990s, playing under McLean and doing arrangements. Now he's back with the performing band numbers a little lower - there are 39 full-time members and 15 reservists - but still kept very busy.
"Our total perfomances, or tasks, run to more than 400 a year," he says, with up to three on one day.
Music at Midday is only one part of this.
"It was a popular format ... It's a variety-type program" he says - concerts would begin with the National Anthem, then go to a march ("I like using Kenneth Alford-type marches"), then a song with a vocalist and move on to various other works, catering to a wide variety of musical tastes.
From talking to audience members, he knows that some older patrons don't like contemporary pieces. But, he says, "We don't get too way out" and he will often explain the music before playing it.
The next two concerts - one in October and a Christmas show - will be Rogers' last as leader. He will go to Melbourne at the end of the year, promoted to lieutenant-colonel, to become the commanding officer of the Defence Force School of Music. Replacing him will be Major Dan Cole, currently officer commanding (under the CO) of the Defence Force School of Music. Cole will come to Canberra to lead the RMC Band- and take over the Music at Midday concerts in 2019.
"He'll be doing this all through next year," Rogers says.
The next Music at Midday dates are Tuesday October 30 and Tuesday November 20 at the Canberra Theatre. Free admission, gold coin donations for charity welcome. canberratheatrecentre.com.au or 6275 2700.
Ron Cerabona is an arts reporter for The Canberra Times.