Music Review: James Muller and Jazzgroove Mothership Orchestra, Canberra
James Muller and Jazzgroove Mothership Orchestra. The Street Theatre. Wednesday, November 4.
Reviewer: Tristan Kane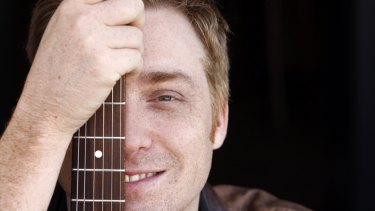 James Muller embodies the classic image of a jazz guitarist. Tall and lean with a coif of light brown hair, he has a calm, secure stage presence, shuffling and bobbing gently along to the groove. It's a laid-back and casual approach which matches his clean jazz-fusion sound.
Tonight he performs with the Jazzgroove Mothership Orchestra, an outfit that's established a rep for supporting contemporary Australian jazz musicians. Artistic director David Theak points out during the night that three of their performers have recently graduated from the Sydney Conservatorium. The orchestra fills its programs not with yesteryear's jazz standards, but with contemporary original works acquired through commissions and a semi-annual composition competition.
Tonight's set list consists of entirely original contemporary works. Most are works previously composed and performed by Muller in small ensembles, arranged for the band by the German pianist and composer Florian Ross. These are examples of energetic but light '60s and '70s-style jazz fusion – reminiscent of Chick Corea, whom one of the pieces is named after.
The band has no conductor; instead Theak leads from his position in the front row among the saxophones. Perhaps it was a result of the smaller crowd, or the fact that it is early in the tour, but the performance feels more like a band cruising through their set at a Sunday afternoon jazz festival.
It's a style which doesn't play to the orchestra's strengths. Their tight, disciplined playing and ability to hammer out fat brassy big band stings at a moment's notice are a disadvantage in much of Muller's more laid-back, groovier aesthetic. Soloists in particular seem to struggle. Long solos of virtuosic noodling are the order of the day, and are highly appropriate to jazz fusion. But they simply can't compete or blend with a full horn section.
The highlight of the night instead comes when they turn to a piece from a different style, from another composer. Piledriver by lead trombonist David Panichi is fast and rhythmic, classic big-band writing. It relies less on long improvised solos, replacing them with tit-for-tat interaction between the orchestra and their headlining guitarist. It brings out the best in everyone and finally the crowd starts to distinctly rock and tap along to the groove.
In a year in which Canberra has hosted the celebrated Count Basie Orchestra and the exceptional Eric Harland, this won't rate among the finest jazz performances of the year. But it is exactly the one we need. Everything about the Jazzgroove Mothership Orchestra is right – a jazz band that's looking to the future, rather than performing in the past, and putting Australian musicians and original compositions front and centre. It's what the Australian scene – indeed any jazz scene – needs right now.