National Archives' hours cut as online traffic rises
The National Archives of Australia is closing its reading rooms on Saturdays throughout the country, saying the move is a ''realignment of resources'' rather than cost cutting. Weekday hours will not change.
Archives assistant director-general (access and communication) Louise Doyle said that from November 1 the reading rooms would close on Saturdays in Canberra, Sydney, Melbourne and Brisbane.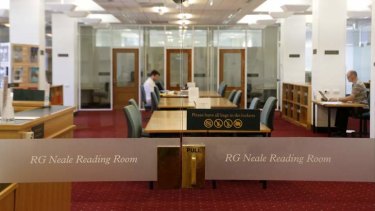 Reading rooms in the other capital cities - Adelaide, Darwin, Hobart and Perth - do not open on Saturday at present.
The Canberra reading room will continue to be open from 9am to 5pm on weekdays, except for Tuesdays when it is open until 7pm.
The hushed confines of the reading rooms allow people to view original records, including documents, maps and audiovisual material.
The National Archives has strict rules to preserve the documents, including a ban on food and drink. Handbags and mobile telephones must be stored in lockers. Pens and ink are not allowed but lead pencils are provided.
Users are advised not to use hand lotion if they plan to handle the records, nor to lick their finger to turn a page, for fear of staining the documents.
Ms Doyle said an average of 11 people used the reading room in Canberra on a Saturday last financial year. Most requests for records were made online.
She said online users had accessed more than 6 million items in the past financial year, and 50,000 items had been viewed in the capital cities' reading rooms.
The closure of the reading rooms on a Saturday was about ''a realignment of resources into areas that had high demand'', the archives director-general said.
''The great focus now is for all agencies to be digitising their records,'' Ms Doyle said.
Resources would also be redirected to reducing a backlog in requests for records, with staff having to check each record before it was released.
''It's about being more efficient and effective,'' Ms Doyle said.