National Capital Authority pleased with goats employed to rid Lake Burley Griffin shore of weeds
Goats have successfully removed problem blackberry from the shores of Lake Burley Griffin, allowing early action to be taken on alligator weed on the foreshore.
The National Capital Authority's trial saw goats replace manual labourers to do weed removal. The result was declared cheaper and more efficient, with the animals clearing 400m of the lake shore of weeds in about three weeks.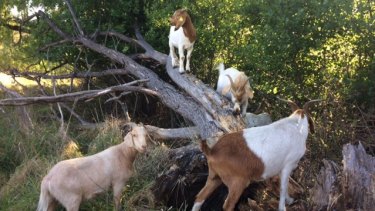 National Capital Authority project officer for lakes and dams, Michelle Jeffrey, came up with the innovative idea to use goats. But, she said, getting approval to do the work from NCA management was a challenge.
"The trial was part of our integrated weed management and it had not been done before, so I had to convince my [seniors] that it was worthwhile," Ms Jeffrey said.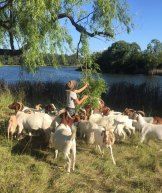 She said the trial was in an area of the lake foreshore that was suspected to have alligator weed, but the area was too difficult to access with the blackberry thicket.
"Alligator weed grows on the edge of the lake and it's a weed of national significance," Ms Jeffrey said.
"To get to that area to inspect it, we had to clear the blackberry first. We have done this in the past with manual crews, but it's very expensive. It's labour intensive, and the machinery can damage the lake edge."
The goats came from Herds for Hire, based in the Bega Valley. Owner Elisabeth Larsen said she was surprised by how many people stopped by to say hello to the goats while they were at the lake.
"I thought it was fantastic," she said.
"As usual the goats performed, there was no surprises there, they always do their job."
Ms Larsen said since the trial there had been interest from other areas of the National Capital Authority, and also from ACT government agencies.
"It's a highly managed solution. There were sceptical voices before we started that the goats might get away or wreak havoc but all the people who came by and met the goats, saw the operation and understood how it worked were quite happy."
National Capital Authority executive director of the national capital estate Lachlan Wood said the removal of the blackberry and the subsequent spraying of invasive alligator weed would make the lake more enjoyable for everyone.
Kimberley Le Lievre is the Editor of The Sunday Canberra Times