National Multicultural Festival opens for 2017 opens with performance at Llewellyn Hall
Organisers are putting the final touches on the 2017 festival tipped to attract more than 280,000 people and see more than 40 tonnes of food consumed.
The 2017 National Multicultural Festival's was opened on Thursday night with the Treasures of a Nation at ANU's Llewellyn Hall.
The prestigious Chinese Orchestra made its return Australian tour and lit up the stage with Sydney based guest performer Miriam Lieberman and an Iranian Band, the Sarv Ensemble led by Canberra based musician Salar Ayoubi.
Festival director Azra Khan said as with every year there were too many foods served up throughout the festival to try everything, but she has a list of items not to be missed this year.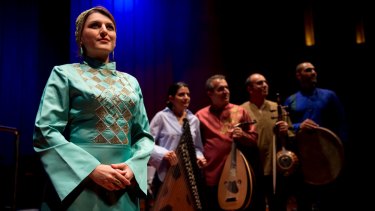 Chinese New Year celebrations will be extended with a huge variety of martial arts, acrobatics, traditional Chinese music, puppetry and dance on show at Stage 3.
Ms Khan said the belly dance showcase, beats at the Latin Quarter and India in the City showcase were her staples of the festival and demonstrated a rich variety and wealth of talent in the Canberra community.
With the festival kicking off on Friday from 4pm road closures will be in place until Monday for London Circuit westbound between Northbourne Avenue and Akuna Street, along with Bunda, Petrie and Mort Streets.
The intersection of Bunda Street with Scots, Genge Street, Murulla Lane, Bible Lane will be closed. As will Ainslie place at the intersection with Riverside Lane.
Ms Khan said Saturday's parade along London Circuit between 4pm-5pm was like watching a world of cultures go by all the wonderfully vibrant costume, bold percussion, music and fanfare.
"One of the best things about the festival is that you can explore and there is always more to see," Ms Khan said. "On top of the highlights, I'd encourage people to really walk the whole footprint and take in as much as they can."
The best way to travel to the festival, and avoid the hassle of parking is by using public transport.
Find a nearby Park & Ride facility and jump on a 900 or 950 bus to and from the event from town centres.
Additional 900 routes will service Tuggeranong, Woden, the city and Belconnen and extra 950 routes will service Gungahlin and the city.
Nightrider bus services will depart every twenty minutes until 1.30am for those planning to stay late and dance and feast into wee hours.
To navigate the festival this weekend download the 2017 National Multicultural Festival app available for both iOS and Android for real time updates, full performance schedule and more.
Georgina is a reporter for The Canberra Times