National Science Forum: Science students and teachers sharpen skills in summer
High school students hoping to establish a career in science, technology and engineering have travelled to the ANU to learn from industry experts during the summer break.
On Thursday afternoon, year 11 and 12 students from across Australia were asked to build a prosthetic leg that could be used by an amputee in Southeast Asia.
The challenge, part of the National Youth Science Forum, was hosted by Jeremy Smith from the ANU College of Engineering and Computer Science who also works with Engineers Without Borders.
"We asked to students to compare the process of getting an artificial limb here in Australia to the situation in Cambodia, where there is still a high percentage of people in need of limbs who have little access to health care," he said.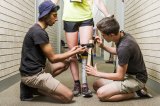 "They all had a good go at it with a limited number of resources and we had an ANU student with a prosthetic leg there offering some advice.
"We give the students materials that you could find almost anywhere, like PVC pipe, wooden blocks and sponge."
Professor Barbara van Leeuwen, director of science at the ANU, said the program gave students an opportunity to see what studying science at university involved.
"These are some of the best and brightest young students in Australia, so it's great to be able to give them a feel for university life and meet our expert researchers," she said.
The National Youth Science Forum caters from almost 400 students who are split into science, mathematics, engineering and technology streams while in Canberra.
The high-school students live on campus at ANU for two weeks with organisers hoping the experience will inspire many to pursue careers in research.
At the same time as the students converge on Canberra, 46 science teachers from across Australia were also in town visiting educational attractions like Questacon, the Tidbinbilla Deep Space Centre and Mount Stromlo and hearing from leading researchers as part of the National Science Teachers Summer School.
Senior biology and chemistry teacher Fred Hayes from Gungahlin College said the summer school had been a fantastic opportunity to find out what was going on in the science world and make connections with "top notch" lecturers and researchers.
"Being in the classroom you can lose focus on the exciting research that is pushing the frontiers of science forward," he said.
"Science isn't just about consolidating what we know it's about pushing forward and investigating what we don't know, that's the exciting thing about science."
"My students hopefully will be the scientists of the future making these discoveries."
Mr Hayes said it was easy to get bogged down in theory in the classroom but explaining the real world applications of science to students was just as important.
"If we can link science to the real world the kids do get really excited about it and that keeps you excited as a teacher," he said.
"Especially when we get these leading researchers into the school… they enthuse the kids and the kids enthuse you."
The Australian Science Teachers Association (ASTA) has been operating the summer school program for six years alongside the youth forum but is more essential than ever as the national curriculum comes into play, spokeswoman Kimberley Gaal said.
As well as primary, secondary and senior secondary science students some delegates were yet to begin their teaching careers.