National study seeks to clarify different approaches to policing cannabis
One of Australia's leading drug researchers has warned authorities have a limited understanding of how different approaches to policing cannabis possession affect individual users across the country.
The warning comes after revelations ACT Policing has issued more than 530 fines for simple cannabis since July 2009, which might have resulted in criminal charges in five other Australian states that have not decriminalised the possession of small amounts of cannabis.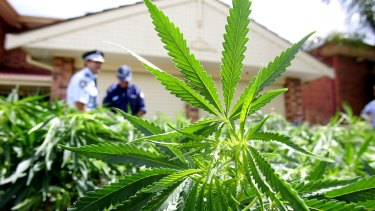 The National Drug and Alcohol Research Centre's senior research fellow, Marian Shanahan, said more than 53,000 people were stopped by police for cannabis use or possession each year, although their experiences varied greatly.
"We do not currently know which intervention is the most effective or least costly at changing cannabis use, decreasing rates of crime, or improving employment and the general health status of users," she said.
"Although cannabis diversion programs have a long history in Australia, we don't really know how diversionary tactics such as fines and cautions stack up against being charged and going to court."
In the ACT, the possession of less than 25 grams of cannabis or the cultivation of one or two cannabis plants (excluding all hydroponically or artificially cultivated plants) for personal use is considered a minor offence and carries a $100 fine payable within 60 days.
Dr Shanahan has launched a national survey in conjunction with the National Drug and Alcohol Research Centre to obtain a better understanding of how individual users are affected.
"We know there are a number of different programs running around the country but no one has been able to sufficiently compare the different outcomes," she said.
"Other studies have looked at recidivism in terms of crime but have not included consideration of changes to health outcomes, education, or productivity."
Dr Shanahan said 500 people had already responded to the survey, which is funded by the National Drug Law Enforcement Research Fund, although a minimum of 2000 respondents were needed before any findings could be made.
"If we can get 2000 respondents then that should give us enough data for a serious comparison between different jurisdictions," she said.
Dr Shanahan said the national survey would also aim to clarify gaps in understanding.
"We could look at how many people were issued with fines, police data, or how many people went through the criminal justice system but we don't really know how the different systems affect each individual," she said.
"We also presume there are a group of people who are just being verbally warned by police officers with their cannabis confiscated rather than issued with a penalty or charge," she said.
The survey is open to all Australians aged 17 and over who have been stopped for minor cannabis use and possession offences sometime in the last three to nine months.
According to the Australian Crime Commission's Illicit Drug Data Report 2012-13, more than 200 kilograms of cannabis were confiscated in Canberra over the past year, which accounted for 90 per cent of the weight of all illicit drugs seized in the ACT in 2012-13.
The report also found Canberra's arrest rate for drug possession was less than a third of the national average during 2012-13 with 14 people arrested per 10,000.