National Zoo and Aquarium welcomes birth of four adorable black and white ruffed lemurs
Furry animal lovers are not the only ones set to benefit from the surprise birth of four black and white ruffed lemurs at the National Zoo and Aquarium.
The adorable 500-gram creatures were special additions to the critically endangered species and will become part of an international breeding program once they are sexually mature.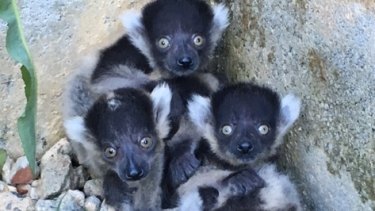 The zoo's operations manager and senior wildlife keeper, Renee Osterloh, was pleasantly shocked to discover their resident black and white ruffed lemurs, Polo and Masina, were bringing four babies into the world.
The species typically give birth to one or two babies at a time.
"It is quite a treat for us to have three boys and one girl," Ms Osterloh said.
"The keepers had been closely monitoring the behaviours of Masina, the mother, and providing nesting material. When we started seeing the nest we could see that it was getting close to the birth but we didn't expect it to be this many."
The four-week-old fur balls are the first of their species to be born at the National Zoo and Aquarium. They join a number of ring-tailed lemurs.
Ms Osterloh said zoo staff were excited to help re-introduce the rapidly declining animals into the wild.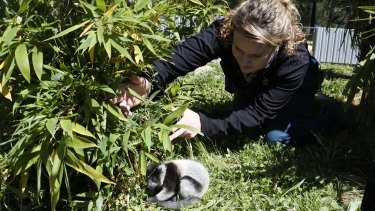 "Once they start to grow up they will be kicked out of home unfortunately," she said.
"However that does mean that other zoos within our region will be able to receive these off spring for the breeding program."
Black and white ruff lemurs are the largest type of lemur and are fully grown in just seven to nine months.
Once they age between one and two years, a species manager will look at their genetics and recommend where they will go for future breeding.
Ms Osterloh said the babies were still heavily reliant on their mother, and zoo staff would typically only handle them for their weekly weighing.
And so far all of the babies were healthy, easily digesting a range of fruit and vegetables and already becoming quite cheeky.
"Black and white ruffs have an array of vocals, they are very social and communicate within the family group to protect each other from predators," she said.
"This species in particular will actually give birth to their young in a nest and after a week or so they will stash [the nests] in hidden locations whilst mum and dad go off to feed".
Clare Sibthorpe is a reporter for The Canberra Times