New ACT teachers share nerves, views on mobile phones
While school classrooms across the ACT filled up with new faces, it wasn't just the kids in uniform who were feeling nervous and excited.
There were new teachers across the ACT this week as well, and at an event at the Hedley Beare Centre For Teaching And Learning, they got to compare notes with their fellow new educators.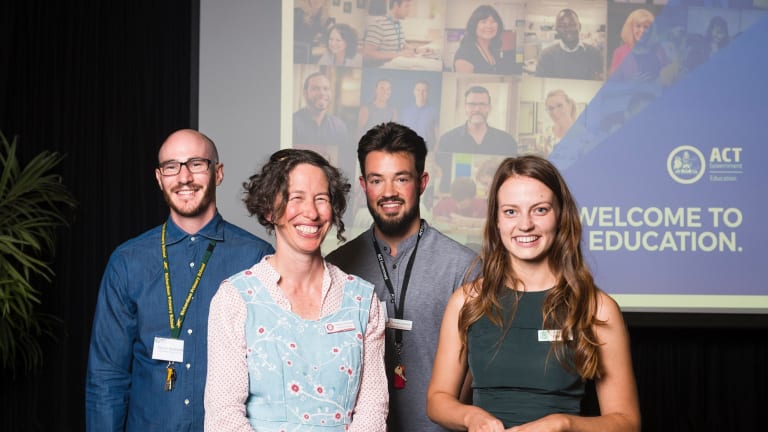 New grade five and six teacher at Chapman Primary School Ryan Gowing said he was nervous and excited on his first day in the classroom, but was looking forward to hearing from his peers.
"It will be great to see if they're on the same page as me, how they're feeling, what classes they're teaching," Mr Gowing said.
Aaron Scarcella, who is also teaching grades five and six but at Richardson Primary School, said his first day was a happy experience.
"I remember rocking up to my very own classroom, standing in front of my very own class and this smile just creeped along my face and I thought 'this is it, here we are'. Then I had the sudden realisation that there's no one standing in the corner, I'm not on prac anymore," he said.
New teacher at Turner School Tilly Cave said she was inspired to the career by her mother who is a local school principal. Like her fellow new graduates, she said her main hope for the year was to make it through.
"I'm hoping to make it through the year and to foster a positive learning environment for children and help them to thrive," she said.
It's not just teachers who are fresh out of university, but also those new to teaching in the ACT who heard from Education Minister Yvette Berry and Director General Natalie Howson. Preschool teacher at Namadgi School Cathleen O'Halloran has moved to the capital from the NSW south coast and is optimistic about what she can achieve at the school.
"I became a teacher 23 years ago because I wanted to change the world and make it a better place and I guess I still want to do that," she said.
"I just feel that what happens for children in those really early years ogf their life and early years of school is so important and it can't be underestimated, the impact that you can have then, so that's why I'm there."
Asked to comment on the Canberra Times editorial calling for a ban on mobile phones in the classroom, the new teachers were measured in their response.
"I guess it's at the school's discretion and the parents as well. Personally I think it's fine for them to bring a phone to school and maybe leave it at the front office and only use it after school or at lunch time for emergencies but otherwise they're not really necessary at school - they have devices already," Mr Gowing said.
Ms Cave said she was concerned that young students could lose valuable phones, but that policies should be up to each school.
"I think that everything in this job is based on circumstance, what works for one school, one teacher, one classroom, one student, won't necessarily work in the classroom next door. It's one of those really tricky things where you can't just make a rule and say this is how it has to be," she said.
Mr Scarcella said he supported his school's policy of keeping phones owned by students in the front office during class time. "I don't really see a huge need for telephones in the classroom in the primary school setting, it might be different in a high school setting," he said.
Morning & Afternoon Newsletter
Delivered Mon–Fri.