New Channel Nine newsreader Vanessa O'Hanlon
There's never a makeup artist more than two metres away from Channel Nine newsreader Vanessa O'Hanlon.
As she poses for photos with her Canberra-based news colleagues, on her own at a mixing desk, and in front of the giant Nine sign in the reception of Nine's Watson station, a hovering hair and makeup artist makes sure the perfect amount of hair sits in front of her shoulder, and that her makeup is flawless.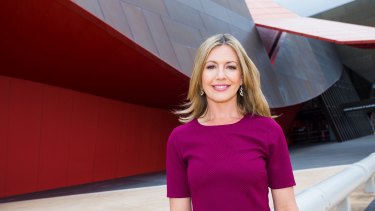 For a print reporter (who'd kill to have hair and makeup done daily) it's fascinating - but O'Hanlon doesn't bat a perfectly made-up eyelid.
It's par for the course for the experienced journalist, who started out behind the scenes in radio but has been smiling in front of the television camera for a decade.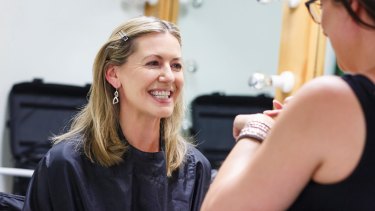 O'Hanlon is the new face of Channel Nine News across the ACT and Southern NSW, including new weeknight bulletins in Canberra, Wollongong, Wagga and the Central West. Nightly 6pm bulletins for all four regions will be compiled and broadcast from Sydney, with O'Hanlon as anchor.
Three Canberra-based journalists will file stories daily from the Channel Nine office in Watson, which will be reviewed by O'Hanlon and a news director before being added to a mix of local, state, national and international news across the 60-minute bulletin.
It's a model that has been successful for Nine in Newcastle for a number of years. The Canberra bulletin is the first to hit the airwarves on Monday February 6 - with Wagga, Wollongong and Orange following in late February.
Nine's local nightly news offering was formerly managed through its regional affiliation with the WIN Network. Nine moved from that relationship in early 2016 to a new association with Southern Cross Austereo, meaning the new Nine news bulletin will go head-to-head with the existing WIN News Canberra bulletin in the 6pm slot.
After years of talking exclusively about humidity, atmosphere and temperature as ABC News Breakfast's national weather presenter, O'Hanlon's looking forward to getting back to telling truly local stories.
"It's a huge move - it's very exciting," she said.
"It's nice to get back out into the regions again and to such a brand new project."
Speaking to Fairfax just days after Nine's Amber Sherlock and Julie Snook went viral with the "white shirt scandal", O'Hanlon shied away from commenting on her colleagues' wardrobes.
But she acknowledged that fashion plays a big role in the general aesthetic of nightly news. She said Canberra viewers could expect to see her in cobalt blue, plum and emerald green.
"With the ABC I had pretty much 100 per cent [control of wardrobe] - I would buy my clothes myself," she said.
"Obviously there were guidelines and I wouldn't go too risque, and they of course had to be weather appropriate!
"With this new role at Nine we have stylists who oversee things and make sure everything's okay, and they've been buying some new bits and pieces for me so it has been exciting to step into someone else's creativity as well.
"The Channel Nine style is a news style so I'll be wearing lots of nice blouses and jackets and still my favourite dresses.
"And lots of colours - I love colour. Cue and Karen Millen are my go-to brands."
O'Hanlon grew up the eldest of Irene and Barry O'Hanlon's five children ("mum and dad still live in the family home") in Melton, about 45km west of Melbourne. She remembers a busy, loud household, with former Melbourne weather presenter David Brown and veteran news reader Mal Walden on the telly.
"I just remember watching David Brown and thinking 'wow, he's really tall!'," she laughed.
"Jana [Wendt] was definitely an inspiration - and Jennifer Hanson was one of the big newsreaders of the day.
"It would be interesting to watch the news back and see what she's wearing. I dare say her hair's permed!"
Always "a good listener", O'Hanlon studied radio at a course offered jointly by Swinburne University and the Australian Film, Television and Radio School.
Her fierce ambition saw her swap the comforts of suburban Melbourne for the rugged, dry landscape of Alice Springs. She was employed by SUNFM as the Drive announcer, but her days were also filled with writing radio advertisements, and writing and reading the news.
"At that time it was all about multi-skilled staff," she said.
From central Australia she moved back to Victoria to a role closer to home on radio in Shepparton. Not content to sit behind a desk and read the news, she tried hard to have an influence on the music being played on the station.
"I would pester my program director in Shepparton and run in with people like Matchbox 20 and Savage Garden and say 'come on! You've got to give these guys a go! They're going to be huge!'" she laughed.
"So I can totally claim Savage Garden!
"And he was like 'would you just get out of my office?'"
A move to Darwin saw O'Hanlon finally score her "dream job" as a music director.
"My job was going through what had been released that week and making a decision on what should be played on the radio station," she said.
"It was a bit old school so I had to brush up on some '60s music! I'd call home and say 'mum, dad, do you remember this song?'
"It was very adult contemporary - I can't say I really loved the music."
From Darwin she moved back to Melbourne to a variety of radio and television roles - including being one of the first journalists to go up in a chopper live on television for the Australian Traffic Network, and listening to Melbourne's late-night confessions as the host of Mix 101.1's Melbourne After Dark.
O'Hanlon scored her most recent role as the ABC's morning weather presenter in 2008. She said resigning from the national broadcaster and announcing her move to Nine was like "breaking up the family".
"They were really happy for me but it was also sad - our little family was breaking up," she said.
"We'd all been together from the start - although Michael [Rowland] had come in two years later.
"It was sad. There were a lot of tears. It was a month of tears."
The media landscape - and the television landscape specifically - has changed significantly since O'Hanlon started out as a journalist in 1995. But despite the fact YouTube and Facebook have become the norm for consuming video content, O'Hanlon believes television still has a role to play for Australians.
"I think [television's] still very strong, especially out in the regional areas because people are so reliant on getting their news and finding out what's happening around them," she said.
"From my experience in the regions, locals can't get enough local news."
Throughout more than two decades of reporting, O'Hanlon said it's her love of human interest stories that's kept her successful.
"I love listening to people - where they're from, how they got to where they're at," she said.
"I love covering things that are affecting people's lives - and to tell stories about people."
While she'll be busy at Nine's Sydney studios in Willoughby through the week, O'Hanlon said she plans to head south on the Hume on weekends as frequently as possible, bringing her partner and Japanese shih tzu Yuki with her.
"I love travelling internationally but lately I've been doing a lot more travel at home," she said.
"I'm loving the road trips, and I've been up and back to Canberra quite a bit, which has been fantastic.
"I'm looking forward to Floriade. I love it - it's beautiful. I love the way that they creatively make something out of flowers."
Bree Element is the life and entertainment editor at The Canberra Times