New MIX 106.3 Canberra breakfast announcer is Neil 'Wilco' Wilcock
If his voice sounds familiar, you must watch commercial TV.
Radio presenter Neil "Wilco" Wilcock - also the past voiceover man for Seven, Ten and 9Go! - has been named as the new breakfast announcer on MIX 106.3 in Canberra.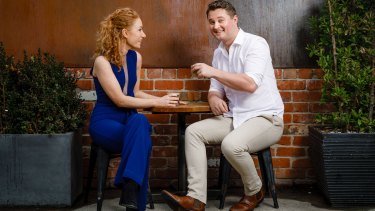 He will start work alongside Kristen Henry in the critical breakfast shift from Monday, June 26.
Wilcock, 31, will replace Rod Cuddihy, who has been appointed the new content director of both Hit 104.7 and MIX 106.3.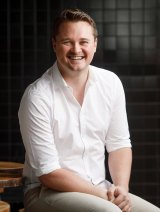 The Newcastle-born announcer started in radio at 17 in Alice Springs and also also worked at stations in Adelaide, the Gold Coast and the Central Coast.
His voice was used on the promos for the TV stations. He laughed that he was "very excitable" as the main voice of 9Go!.
"That was fun. That was a really exciting time because it was the first time I was the main voice of a channel. We launched it from scratch," he said.
Cuddihy, now the boss who had to find a replacement for himself, sought Wilcock out for the Canberra job.
"Rod called out of the blue and said, 'I'm getting out of breakfast radio and I want you to come down and meet Kristen and see how you click'," he said.
On-air chemistry is crucial and Henry said Wilcock was always her pick from the start of all the contenders for the job.
"They scoured the country and I felt like The Bachelorette for about two weeks," she said.
"I got to meet all these guys and get them to find out more about me...."
They scoured the country and I felt like The Bachelorette for about two weeks

MIX 106.3 breakfast presenter Kristen Henry on the search for her new on-air partner.
"Sadly, I'm just the gay best friend, so I didn't bring her a rose," Wilcock said.
"Which, I love," Henry said. "I sort of walked in and said, it's 'Wilco or bust, guys'. It's Wilco or we advertise. He makes the type of radio I want to make. And it felt good. and it felt fun. So it's really exciting. It's going to be great."
It was good timing because Wilcock was also looking to get back into breakfast radio.
"I think it's something in you. I can't even explain it. How do you explain it?" he said, to Henry.
"I always say breakfast radio is a hungry beast," Henry said. "You are up at ridiculous o'clock, on very chilly mornings in Canberra. But there is something about it which is addictive. When you're in it, you love it. Especially here."
Wilcock agrees.
"Listeners pump us up," he said. "When you get callers and they're in on the joke, they're the things I really missed. All my job before was to go into padded room and read little A4 pieces of paper about how great MasterChef was or about to be. It was very much the same.
"Whereas radio changes every day. There's always something new to talk about. When we did our audition together, we just realised we loved talking about stuff. and if it's not a good conversation between the two, it's never going to work. That's why I wanted to get back into radio, to feel that connection."
The pair intend to keep the focus squarely on the Canberra community and helping out where they can.
"To be able to help people and physically change their lives is insane," Wilcock said. "But you also get to do dumb stuff for no other than reason than, 'That'd be cool!'."
Wilcock says he "has a lot of friends" in the national capital.
"I have to admit years ago I had a perception of Canberra that was blown away some months ago when Rod started talking to me about the job. Having everything that Sydney has but also a relaxed lifestyle is exactly what you want. Canberra's great."
Megan Doherty is a reporter for The Canberra Times