New start for owners of Mr Fluffy asbestos home in Kambah
Kambah couple are moving on from their Mr Fluffy home. Emma Macdonald reports.
Charmaine and Chris Sims are joyously moving on from Mr Fluffy.
One of a handful of local families to have bought a home in record time since the ACT Government announced its historic $1 billion buy-back and demolition scheme at the end of last month, the young Kambah couple are taking their two children and relocating a few streets away.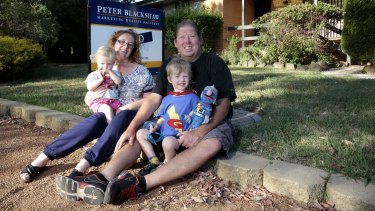 And they cannot wait to start packing.
They found a house about a week after the buyback was confirmed and decided to act. Settlement is in January.
They felt blessed to be able to buy a larger home in the suburb they love – with a community they are part of and childcare for 20-month-old Alma and nearly 4-year-old Zac close by.
The couple moved quickly for two reasons. Overwhelmingly, they want to get out of their Mr Fluffy home, which they bought without any idea of amosite asbestos contamination in 2006.
But they also want to avoid a looming property bubble.
"We wanted to avoid any rise in prices that is predicted to happen because of all the other Mr Fluffy owners coming into the market," Ms Sims said.
"We found a great house, we just decided to go for it."
Of course, it is a slight leap of faith given the frightening prospect of paying back two mortgages if the buyback funding does not come through before settlement on the new house. But all indications from Chief Minister Katy Gallagher are that funds could start flowing to homeowners from the second week of December.
After months of sleepless nights feeling trapped in a home which contained remnant amosite in its walls and subfloors and which was potentially worthless, the Sims are focussing on new beginnings.
"I cannot describe what a weight it is that has been lifted from our shoulders," Ms Sims said.
"We know at the back of our minds that there are health risks there, but there is nothing we can do to change that, so we just need to be aware of it. We are more focussed on moving out and moving into our new place and living a happy life with our children."
The couple have negotiated a mortgage package with their bank and said they felt supported.
It would be "emotionally very difficult" to live close by their old home and to see it demolished eventually.
Fluffy Owners and Residents' Action Group founder Brianna Heseltine said it was exciting and uplifting to see families like the Sims moving forward after such a difficult year.
While a number of homeowners were devastated at the prospect of not being able to rebuild on their existing blocks, Ms Heseltine said the buyback had offered a financial lifeline to all Mr Fluffy owners who were earlier in the year facing the prospect of owning worthless homes – and facing a very bleak Christmas.