Not The Messiah goes for baroque and pop and other musical genres
Not the Messiah (He's A Very Naughty Boy). By Eric Idle and John Du Prez, based on Monty Python's Life of Brian. Conducted by Leonard Weiss. Directed by Ylaria Rogers. Canberra Choral Society and National Capital Orchestra. Llewellyn Hall. Saturday, June 2, 7.30pm. premier.ticketek.com.au.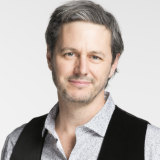 Monty Python fans, shout Hallelujah! The Idea of North's Nick Begbie plays Brian in the Canberra premiere of Not the Messiah (He's A Very Naughty Boy), based on the film Monty Python's Life of Brian. This comic oratorio by Eric Idle and John Du Prez — who previously collaborated on the musical Spamalot, also based on a film, Monty Python and the Holy Grail, by the British comedy troupe — is presented by Canberra Choral Society, the National Capital Orchestral and soloists with more than 120 musicians on stage at Llewellyn Hall.
The Idea of North's tenor Begbie returns to Canberra as Brian, the man caught up in circumstances beyond his control as a man believed to be the Messiah.
"I'm a longstanding fan of Monty Python," he says.
"It's going to be fun."
He says that while the piece seems to be all about Brian, the role is in fact mostly reactive, with things happening to Brian rather than him driving his fate — "Well, that just happened" is how Begbie puts it.
The other soloists are baritone Tobias Cole, whose roles include that of narrator, Louise Page (Brian's mother Mandy) and Demi Smith (Brian's girlfriend Judith) and bass David Pearson, who plays Reg, leader of the People's Front of Judea, and Biggus Dickus, a Roman officer of great power.
Conductor Leonard Weiss echoes Begbie, saying Not The Messiah is "a delightfully funny piece". This will be his third time conducting a collaboration between the orchestra and the Canberra Choral Society, although the previous works he conducted, by two Carls — Vine and Orff — are somewhat different in character.
Weiss says the focus of the piece is musical rather than theatrical, in a wide variety of genres — Idle called it "baroque 'n' roll".
Cole says, "I love that it's a mashup of different styles."
While there's obviously some parodying of Handel's Messiah — hence the title — Idle and his collaborator, he says, aren't just going for baroque but include many other styles: "doo-wop, Broadway, even Bob Dylan — using whatever he needs to make people laugh."
Python fans will recognise some favourite bits in there, too, including the inevitable singalong ending, Always Look On The Bright Side of Life.
Cole says Not The Messiah and the Pythons are in the tradition that includes "the Goons ... music hall, a good-time singalong, and the ghosts of Gilbert and Sullivan are in there too — it's a continuous theme of British humour".
While a concert would not normally have a director, because of the strongly narrative, comedic and character-based nature of Not The Messiah, Ylaria Rogers has been engaged to help with acting, accents and other important elements.
"It's such a funny piece — you want to be true to the story, to what was originally done with very specific actors," she says, while acknowledging that Not The Messiah is its own beast, not Life of Brian, and these performers are not the Python troupe and bring their own qualities and talents to the project.
And it's useful to have someone to keep an eye on the overall size of the project, with more than 100 people on stage working towards a single comedic end, whether what they're performing sounds like country and western, hip hop, pop, a hymn, or something completely different.