On course for bright futures after ATARs
For the 2786 ACT students who completed year 12 and studied for a tertiary entrance score, the wait is finally over.
Students can now officially access their Australian Tertiary Admission Rank online, although many found out their results from their schools during the week.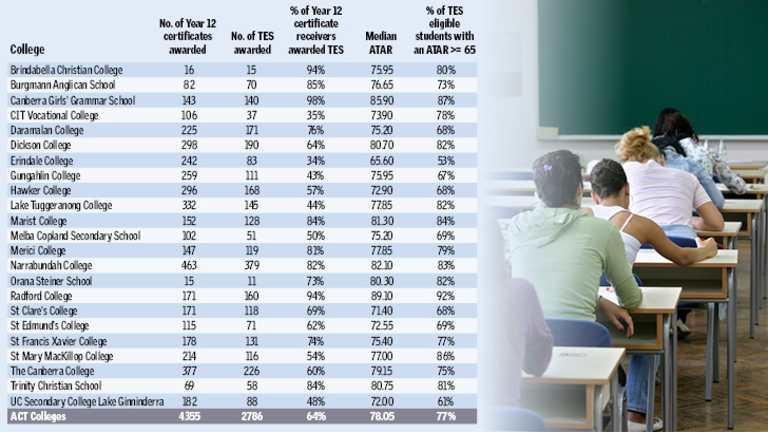 The median ATAR achieved across the territory this year was 78.05, according to an analysis of year 12 achievement by the Board of Senior Secondary Studies.
A total of 4355 year 12 certificates were awarded, with 1262 students undertaking vocational packages across a range of fields - most popularly in information and communications technology, tourism and hospitality, business and construction.
Radford College and Canberra Girls Grammar School continue to achieve the top results in the non-government sector, while Narrabundah College achieved the top results in the government sector.
In getting the largest percentage of students an ATAR of 65 or above, Radford College comes first at 92 per cent, followed by Girls Grammar at 87 per cent, and St Mary MacKillop College at 86 per cent.
The top mean ATAR was achieved at Radford, with 89.10, followed by Girls Grammar with 85.90 and Narrabundah with 82.10.
In the number of students colleges provided with a tertiary package, Girls Grammar had the highest percentage of 98, followed by Radford and Brindabella, both at 94 per cent.
Erindale College received the lowest mean ATAR of 65.60 and it had the smallest percentage of students awarded a tertiary package - 34 per cent - as well as the lowest percentage of students with an ATAR above 65 - at 53 per cent.
ACT Minister for Education and Training Joy Burch congratulated local year 12 graduates, noting that 23 per cent had achieved an ATAR of 90 or above.
A further 46 per cent had an ATAR of 80 or above, while 77 per cent had an ATAR of at least 65 - the cut-off for general admission to the University of Canberra.
"I would especially like to acknowledge the support provided by parents and teachers, who have helped the students throughout their education. As national testing indicators show, we are fortunate in Canberra to have the best education system in the country, which bodes well for the future of our city," Ms Burch said.
The most popular courses across ACT colleges were English and maths, with nearly 100 per cent of students taking English and more than 95 per cent taking maths.
A little more than 30 per cent undertook PE and religious studies, followed by behavioural science, biology, economics and accounting and chemistry.
The UC Secondary College Lake Ginninderra awarded the most number of vocational packages at 126, followed by Canberra College at 120, Dickson College at 115, and Daramalan College at 94.
Canberra Grammar, which takes part in the NSW Higher School Certificate, issued achievement results on Wednesday, with students Eoin White and Kevin Kelly tied in first place in HSC course Continuing Chinese.
Canberra Grammar students placed second in HSC English Extension 2 and Software Design & Development.
All up, six students made it on to the HSC All Round Achievers list to achieve a score of at least 90 per cent in 10 or more units.
In Continuing Chinese, 100 per cent of Canberra Grammar students achieved in the top band (band 6) compared with a NSW average of 50 per cent.
Overall, 40 per cent of Canberra Grammar students achieved a result in the top band in at least one of their subjects.
Now students know their ATARs, the Universities Admissions Centre has urged them to finalise their course preferences by January 4 in time for the main round of offers to be published on January 16.
The UAC asked students to not discount their entry into a particular course if their ATAR was below the cut-off mark, as universities often awarded bonus points to individual students. Bonus points could be allocated for subject relevance, through the Educational Access Schemes, or through being an in-area enrolment, the centre said.
Extracurricular achievements, such as being school captain or an elite athlete or performer, could also lead to acceptance for a place at university, even if the cut-off level was not reached.
■ In Wednesday's report on the top academic achievers in ACT colleges, the following students were inadvertently left off the list: Ross Pure - the Canberra College, Karen Rebel - Brindabella Christian College, Aaron Smith - Erindale College, Matthew Towicz - Marist College, Amy Webb - St Francis Xavier College, David Whitehall - CIT Vocational College, Henry Wong - Trinity Christian School, Dongtao Yu - Gungahlin College.