One tonne bondage castle goes on display at Canberra's National Gallery of Australia
It's the attesting Gothic cathedral-inspired sculpture unlike any other art you might have seen.
Its leather-bound spires are made of whips, chains, studs and spikes, sex toys and gags.
Weighing close to a tonne, it hovers almost a metre above the floor, suspended by four ropes knotted according to the Japanese bondage technique Kinbaku, meaning the "beauty of tight binding".
No, it's not a prop from the set of Game of Thrones, but the centrepiece in a new display of contemporary Asian art at the National Gallery of Australia.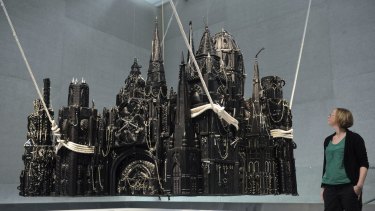 The impressive sculpture, which is made entirely of bondage material, is the brainchild of provocative Chinese conceptual artist Xu Zhen​.
On loan from Sydney's White Rabbit Gallery, Zhen's work Play 201301 took around 20 people almost three weeks to install.
It weighs a staggering 930 kilograms, and required a structural engineer and construction of a purpose-built frame to hang it from the gallery's high ceiling.
The sculpture's sheer size, intricacy and detail is a marvel, but the artwork also offers a deeper commentary about morality and the church's relationship with sex.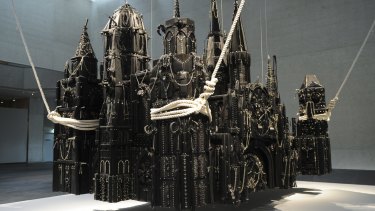 "Xu Zhen is really making a comment on the art world and dominance and submission within the contemporary art scene," curator of Asian art at the NGA Lucie Folan​ said.
"I think people are immediately impressed by the scale of the work and it's only when they get up close that they see what it's actually made of and get more of an understanding of what the artist is commenting on.
"From afar, it just looks like a floating fantasy castle, but when you get up close and you see it has chains, gags and whips and all kinds of quite confronting, I suppose, pieces of equipment and material, I think it might challenge some people.
"I think spending a while with it, they will see what the artist is looking to provoke."
Zhen was born in Shanghai in 1977 and has become a leading figure in contemporary Chinese art.
In 2009, he founded a contemporary art creation outfit called the MadeIn Company, which employs 30 staff and operates from a large warehouse which has been converted into an art factory. Zhen set up the company as a commentary on the relationship between commerce and art.
Play 201301 will be on display at the NGA until November.
Natasha Boddy is a reporter at The Canberra Times.