Ordinary gods and heroes in over 50s
The gods and heroes of ancient Egypt, Greece and Rome have much to say to contemporary Canberrans and are continuing their dialogue with humanity at the Belconnen Arts Centre.
Three ACT artists, sculptor Victoria Royds, photographer Judith Crispin and poet Paul Hetherington, have reworked classical myths and motifs to interpret personal experiences of ageing and transformation in an exhibition that ends on February 3.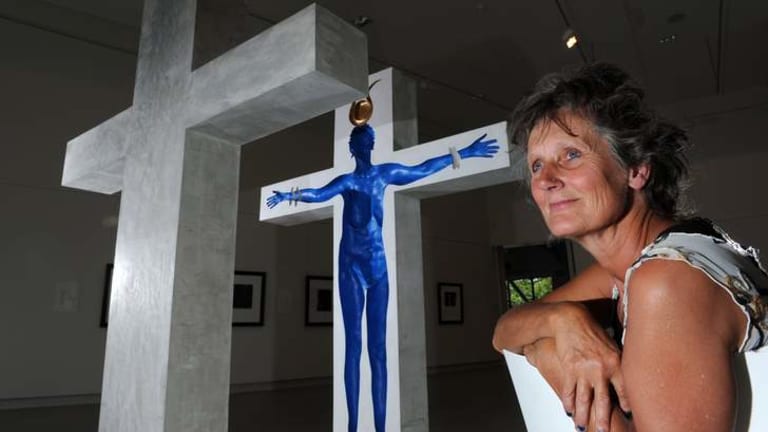 Royds, whose first love as an artist in the 1970s was jewellery, runs a carbon sequestration farm from a reportedly haunted home in Braidwood. She said she had been ''through the fire'' several times before the first public exhibition of her monumental Blue Isis as part of the Nearly Birds exhibition.
Her recent life has been emotionally challenging and, on the night the exhibition opened on January 18, vandals firebombed her car in the arts centre car park.
''Fire is a powerful symbol of transformation,'' she said. ''I moved back to Braidwood in 2007 to become a carbon farmer after my father died. We are sequestering carbon using beef cattle; it is a very holistic approach.''
Royds, who uses the property's shearing shed as her studio, said there was a strong connection between her life as a farmer and her life as an artist.
''Both are related to mother earth,'' she said. ''I am trying to heal the land through my [farm] work and my soul through my art.''
Asked if all souls were damaged, Royds said art was healing in that it was a search for a deeper understanding of self. ''Art is certainly an investigation of the spirit; it is a compulsion for most artists and I want to continue working until I die.''
Royd's latest works also explored her ability to endure physical effort, discomfort and a tussle with claustrophobia.
Blue Isis uses negative space to depict where a figure has been. Royds modelled the figure herself. This involved having her body cocooned in a shell of plaster which then was then allowed to dry and set.
The result, which some observers mistook for moulds from which a new figure would be cast, were used to make a two-tonne double crucifix of acrylic resin, cement, paint and gold leaf.
Crispin, an adjunct fellow, School of Music, at the Australian National University, and the director of Canberra's Manning Clark House as well as a photographer, documented the birth of Blue Isis in a series of pictures that are also on display at Belconnen.
They are a counterpoint to her photographs depicting figures from classical mythology including Icarus, Persephone, Hermes Trismegistus, Nyx and Venus that anchor the exhibit.
Each of the photographs, some of which blend images shot on film and digital cameras, take a fresh look at classical archetypes that have been a part of the emotional language of Europeans for millennia.
The twist is Crispin has deliberately chosen not to give any of her archetypes ''a body like a Greek god''; even though that is what they are. Almost all the models were over 50, none had ever posed before and all took a little while to get comfortable with the idea of being photographed in the nude.
Her images, and the accompanying words by Hetherington, are not in themselves true or false.
''Symbols exist as a lens through which we see different aspects of ourselves,'' she said.
Royds agreed, saying the exhibition was in part a response to a historic tendency for art to reflect the male gaze and the modern obsession with unchanging and eternal youth that does not allow for physical or intellectual transformation over time.
''I hope that as we age, our art, our writing, our selves changes,'' she said. ''If we go through a whole life and have not changed then what has been achieved.''
Morning & Afternoon Newsletter
Delivered Mon–Fri.